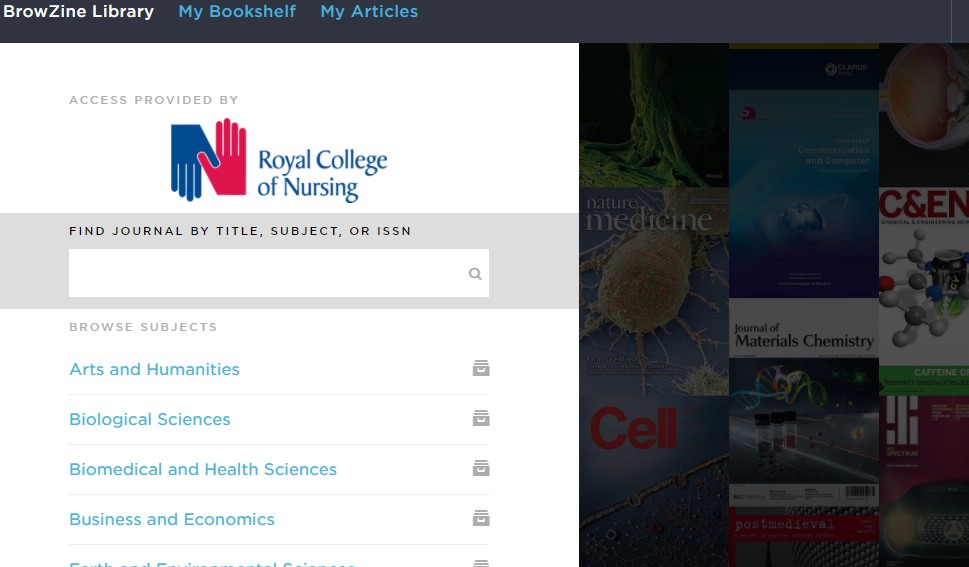 The Library and Archive service is very pleased to announce a new way to enjoy our e-journal content.
BrowZine is a website (and app) which allows you to browse, read and stay up to date with all of our journal content on one simple platform. Journals are sorted by subject and can also be searched using a predictive search via title, subject, or ISN
In addition to the standard features, you can also create a free account which gives you access to a customisable virtual newsstand display. Here you can utilise the 'My Bookshelf' and 'My Articles' components, which allows you to save your favourite journals and articles to read later.
Links to BrowZine now appear when you find journal articles via the library search. As well as the usual links to the article, you will now see a 'browse now' option which will take you to the article in BrowZine.
We have also improved the links to full-text so they now get you to the content more quickly. If you want to access an article in one click you can now select either 'read article' or 'download now' and you will be taken straight to the article you want.
And last but not least, we now have a great new way to connect you to RCN-provided e-journals when you are using the open web.
Install the LibKey Nomad browser extension and login as an RCN member. Now when you search selected web sites (Wikipedia, PubMed, Research Gate, and more) you will see simple, one-click article links to content provided to you by the RCN Library and Archive Service.