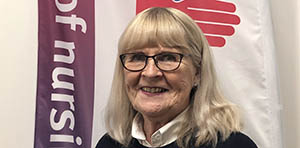 It is with great sadness that the RCN has learnt of the death of Cate Woolley-Brown. Cate passed away on 31 August.
Cate, a popular and well-respected nurse, had a long history of involvement with the RCN both regionally and nationally. Cate chaired the Northern Region board and was President of the County Durham and Darlington branch for over ten years. Before that she served as branch treasurer and then secretary.
In 2007 she was elected to RCN Council, a position Cate held until 2011. During that time she was a member of the Finance and Investment Committee and MRC Governance group.
Cate was also committed to the professional side of the RCN's work and was a member of several professional forums including the Forum for Nurses working with Older People and Rehabilitation and Intermediate Care Forum.

Janet Mortimer, RCN Northern Board Vice-Chair, said: "Words cannot even begin to express my sadness at the news that Cate Woolley-Brown has passed away.
"Cate had a great passion for nursing. She worked incredibly hard, taking on numerous roles within the RCN to promote and safe, compassionate care. Even when Cate retired, she continued to promote nursing and the RCN.
"My sincerest condolences go to her husband, children, grandchildren, family and friends. My thoughts are also with everyone who knew and loved Cate, as I did."

Glenn Turp, former Regional Director for RCN Northern, worked closely with Cate for many years. He said: "Last week we lost a true advocate for nursing. Cate was both passionate about nursing and a compassionate nurse.
"She was a persistent and influential campaigner, always fighting for nursing at a local and national level. Not only an activist, Cate was also a branch executive and Council member, always leading from the front and successfully lobbied for important EU legislation on needle stick injury prevention.
"Cate worked tirelessly for members, even after she finally retired and went onto Chair the regional retired nurses' group.
"Cate was incredibly well-known and well-respected throughout the RCN and beyond. Her experience as a nurse, her wisdom and the support she gave to activists, members and staff will be greatly missed."

Paul Wood, interim Regional Director for RCN Northern, said: "Cate was much loved by the members of her branch, the region and the rest of the RCN. Her commitment to nursing, the College and its members was second to none.
"Her enormous contribution will always be remembered."