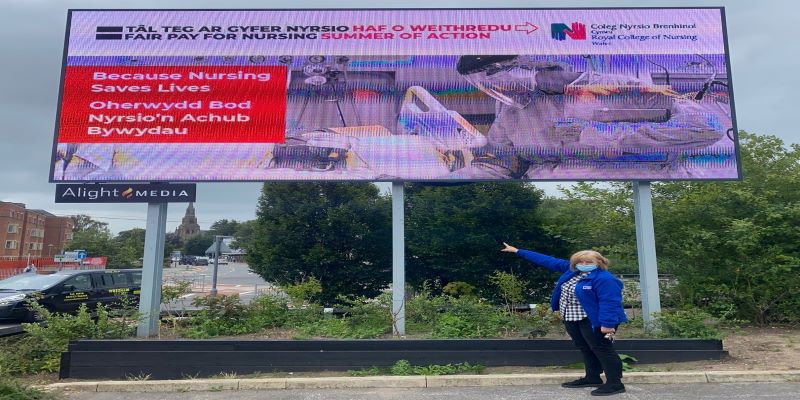 What is your role within the RCN?
I have been a registered nurse for 40 years. I got involved with the RCN through various links within my health board and became very active in the organisation. I decided to take the leap to become an RCN steward and health and safety representative.
With regard to the pay campaign, this is a great opportunity for all nurses to get on board, have their voice heard and vote on the pay ballot. We can send a clear message to the Welsh and UK Governments that the 3% pay award is not acceptable.
What inspired you to get into nursing?
I've always been a carer and nursing ticked all the boxes of what I wanted out of a career. It has given me a chance to increase my knowledge of health and well-being and also gave me a platform to progress within the National Health Service.
My background is midwifery, paediatrics and neonatal, I became a sister 30 years ago and stayed clinical until I got a secondment with RCN. My goas is to ensure that patient care is always at the forefront of my work.
What are your thoughts on the current Pay for Nursing Award?
Many of my colleagues have seen this pandemic as a battle field and I don't think any private sector worker can say that they have worked in such a way that we have. We have not had a decent pay rise for many years and now more than ever, we need to work collectively to make sure that both the Welsh and UK governments recognise our voice. We deserve pay that reflects our roles and responsibilities and our life-long commitment to the NHS and nursing.
Have you voted?
Yes, I have voted. I am encouraging all RCN members to engage in the ballot. It is open until September 13th and it will and can affect all of their lives – so it is very important we have our say. The RCN and its members have been running a Summer of Action - events across the country and an online petition that all members engaged with. As an RCN steward I am out nearly every day campaigning and encouraging people to vote in the ballot.
Did you find voting easy?
Yes, I found it a very easy and simple process and for those who are unable to get online there are paper versions around for everybody – so there is no excuse for people not to engage and vote in the ballot. Please check your emails and also check your spam inbox.
What can RCN members do to get involved?
We know people are physically and mentally exhausted from this pandemic. However, it takes two minutes to complete the ballot. We need everyone to use their voices and engage in this ballot, so let's get a good turnout.