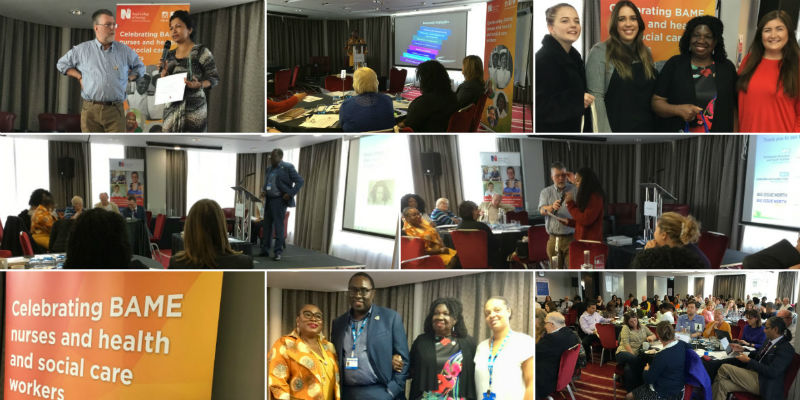 "Fabulous speakers. Best RCN event ever. Need more of these."
"Fantastic event, loved listening to the speakers. Some truly inspirational stories by amazing people."
"The big take home for me from #RCNBHM18 is the positivity…"

Those are just a few of the comments taken from our social media feeds following the region's first ever Black History Month event. Held to coincide with events in every RCN region on 17 October,
Yorkshire and the Humber invited speakers to tell their stories of success to celebrate the contribution of BAME nursing staff to health and social care across 70 years of the NHS.
As 2018 is also the 70th anniversary of the Windrush arrivals, the event included a Caribbean-themed lunch and retired nurse Beverley Chapman spoke of her life journey from arriving in Leeds from Jamaica as a 17 year old nurse trainee through to becoming a midwife and then district nurse.

Chief Executive (CEO) of Calderdale and Huddersfield NHS Foundation Trust Owen Williams told the room of his passion for encouraging diversity and the successful work of the BAME network at his trust. He introduced us to Natalie Wood, a senior nurse who explained how she overcame a difficult start in life to thrive in her career with the support of the network.

Heather Nelson, CEO of Leeds Black Health Initiative described how her organisation has tackled some challenging topics such as the lack of suitable wigs available to black cancer patients and encouraging men to talk about mental health.

Local author Ian Clayton told his personal story and then led a workshop encouraging attendees to write down their own history, offering some insight into his creative processes and how stories can connect us as human beings.

The event was chaired by Professor Uduak Archibong MBE, the Director of the Centre for Inclusion and Diversity at the University of Bradford. She talked about key principles for encouraging diversity and inclusion in all aspects of life and of the importance of remaining authentic.