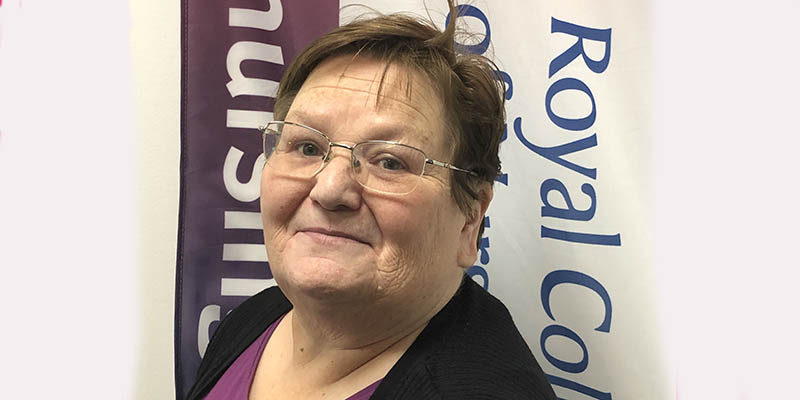 RCN steward and Durham nurse Janet Mortimer has been awarded RCN Steward of the Year at Congress in Glasgow.

The awards celebrate those who have 'gone that extra mile to help their colleagues' and have 'made a difference in their workplace', showing 'outstanding commitment to the RCN and its members'.
Janet's award demonstrates that she is an 'exceptional RCN steward' who has demonstrated achievements in representation and consultation and helped resolve workplace issues or disputes.

Janet first became a steward some 32 years ago in 1990 and has worked tirelessly to provide support, help and advice to members ever since.

Janet has also played a vital part in the governance of the RCN locally and in the region. Janet has been an active member of her local County Durham and Darlington branch and in 2015, Janet was elected to the RCN Northern board before being elected Board Vice-Chair in 2018.

Sarah Dodsworth, Regional Director for RCN Northern Region said:

"Janet is an innovative nurse who has revolutionised dementia care at her hospital. She was redeployed several times during the pandemic, but throughout she kept her dispersed team of dementia specialists connected by writing them a weekly newsletter to ensure they retained a sense of belonging during an uncertain and scary time."
"In her role as an RCN steward, Janet truly goes above and beyond for members in and outside the workplace. She has been innovative in how she supports members and has supported members outside of working hours to ensure they receive relevant provision for their health needs."
"Janet does everything she can for both her local branch and regional Board. This is on top of her full-time day job and steward role. Janet works tirelessly for the RCN and her members. I'm immensely proud of everything she has achieved, and she deserve recognition for her hard work and commitment".

Janet Mortimer said:
"I'm shocked and stunned that I was even nominated let alone won the Award. I don't feel that I do anything special at all. I try to do the same as every other RCN rep in the UK does every day for members. I could not do my role without the support of colleagues in my workplace and the wonderful team in the RCN's regional office. It has and is really important to me to be able to offer support and help to members. I don't always get it right but it is important to try, and reflect and learn."

Michael Appleby, RCN Council member for the RCN Northern Region, said:
"Janet is a stalwart activist and a wonderful branch officer. Her personal qualities are thoughtfulness, going the extra mile and caring for members and their families. Janet shows empathy, compassion, and selflessness. She is kind, thoughtful and empathetic, consistently putting others' needs before her own. She always takes member cases she knows will make a difference to people's lives".