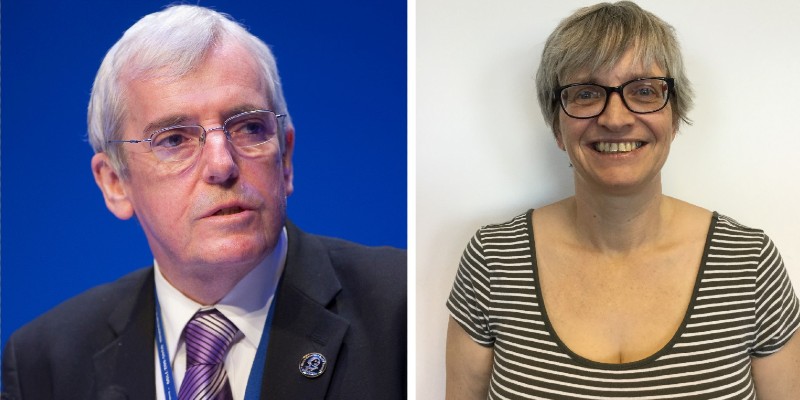 Dr Peter Carter OBE, a Hertfordshire-based nurse and former Chief Executive of the Royal College of Nursing, has been awarded the RCN Fellowship. And Tracey Risebrow, lead practice educator for post registration at East Suffolk and North Essex NHS Foundation Trust, received a commendation for her work as a learning representative.
The RCN Awards are usually announced at RCN Congress, which this year has been postponed due to the COVID-19 pandemic.
Dr Carter was one of the first nurses to become an NHS Chief Executive, leading Central and North West London NHS Trust for 12 years before he came to the RCN as Chief Executive and General Secretary. He is currently a non-executive director at East and North Hertfordshire NHS Trust.
The RCN elects a small number of new Fellows and Honorary Fellows each year to recognise practitioners, researchers, educationalists and leaders who share the RCN's commitment to advancing the art and science of nursing and the improvement of health care. Nominees are put forward by peers to acknowledge the experience, accomplishments and dedication to the nursing profession.
Among his many achievements, Dr Carter was a member of the committee that developed the implementation of non-medical prescribing which led the way to nurse prescribing. He has also been credited by Dementia UK as being a pivotal person in the development of the Admiral Nurse concept. As Honorary Colonel of 203 Field Hospital, Peter took an active role in supporting nurses in the armed forces and visited both Iraq and Afghanistan during the conflicts there.
Since leaving the RCN in 2015 Peter has worked in 10 countries, acts as a visiting lecturer at several universities giving his services on a pro-bono basis and writes occasionally for the Nursing Times and Health Service Journal.
Peter says: "I'm thrilled to be awarded this fellowship. The RCN has been a force for good for over 100 years and as a fellow I look forward to contributing to the continued advancement of nursing practice."
The RCN Representative Awards, part of the RCN Awards, celebrate RCN learning reps, safety reps and stewards who make a difference in their workplace and show outstanding commitment to the RCN and its members. Nominees are put forward by peers to acknowledge the experience, accomplishments and dedication to the nursing profession.
Tracey was commended for her work as a learning rep and involvement in her employer's clinical induction programme. Tracey supported the recruitment of a new RCN steward through the programme, leading on the steward's learning and development. As well as being a learning rep since 2007, Tracey is also RCN Eastern board chair and Treasurer of RCN Suffolk branch.
Tracey said: "I was thrilled and surprised to find out I had been commended in the RCN representative awards. "For me being a learning rep is about supporting staff to become the best they can be and I am always available for advice and support to members around learning issues in particular.
"I also work collaboratively with the RCN stewards and other unions within my organisation to ensure everyone has access to the learning they need."