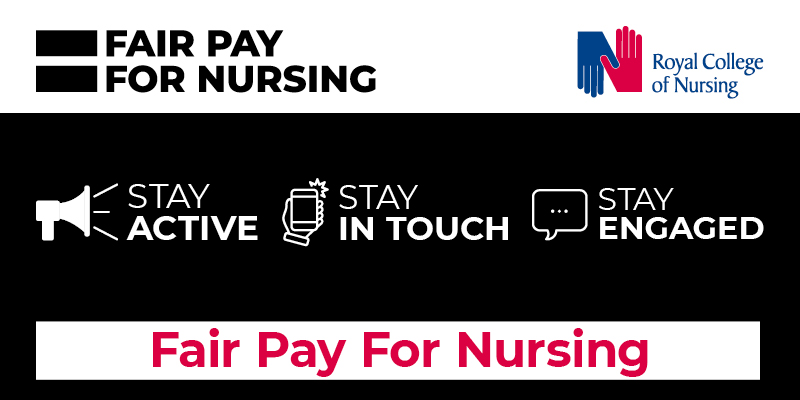 RCN Northern Ireland Board Chair, Fiona Devlin, called an emergency meeting of the Pay and Safe and Effective Care Campaign Sub-Committee today to discuss the pay situation in Northern Ireland.
While the Minister for Health has advised trade unions that he has "accepted the pay review recommendations in full", it is of great concern to the RCN that it will be October before the additional funding required will be requested from the Northern Ireland Executive via the October budgetary monitoring round.
Fiona Devlin said: "Members of the Board sub-committee met today to discuss the situation in relation to pay in Northern Ireland. It was agreed that it is completely unacceptable that once again Northern Ireland has been left behind the rest of the UK as we wait for our politicians to find the money to finalise a pay award for nursing and other health care staff on Agenda for Change terms and conditions.
"While we understand that not all of the money has been forthcoming from Westminster, we expect our political representatives to make a concerted effort to advocate for hard-working health care staff who are working above and beyond every single day to care for patients. To this end we are contacting both our MPs and MLAs to insist this is brought forward as a matter of urgency.
"Nursing staff, who have already been forced to take industrial action and strike action regarding pay parity and safe staffing, will be dismayed that we do not yet have a pay award formally announced. Yet again, we are lagging behind England, Scotland and Wales, and this cannot continue. This delay sends a clear message that there is a lack of respect and value for nursing.
"It is simply unjust and unfair. We accept that the Health Minister has made his intentions clear but until we have a concrete offer, in reality, we are no better off. This is about recognising that the salaries of nursing professionals have not kept pace with the cost of living over the past decade. Ultimately, it is also about providing safe and effective care for the people of Northern Ireland. Without investment in the nursing profession, we will not be able to recruit and retain the staff we need, nor will we be able to fill the growing number of vacancies that currently exist and which are expected to get worse.
"The RCN has made it clear that we will not stop until nursing is respected, protected and valued. Our fight for fair pay continues until this situation is resolved."
The RCN has been campaigning for a fully-funded 12.5% pay increase for all nursing staff covered by Agenda for Change terms as part of a one-year deal that applies equally to all bands.
Members of the RCN Northern Ireland Board Sub-Committee are: Fiona Devlin, Chair of the Northern Ireland Board, Maureen Dolan, Vice-Chair of the Northern Ireland Board, Denise Kelly, Trade Union Committee member for Northern Ireland, Siobhan Donald, Professional Nursing Committee member for Northern Ireland and Andrew Doherty.
A consultation on pay is currently taking place in England and Wales. While we are not in a position to consult members in Northern Ireland until we have a formal announcement of a pay award, it's important we have accurate details for who your employer is. Please check these now at MyRCN.