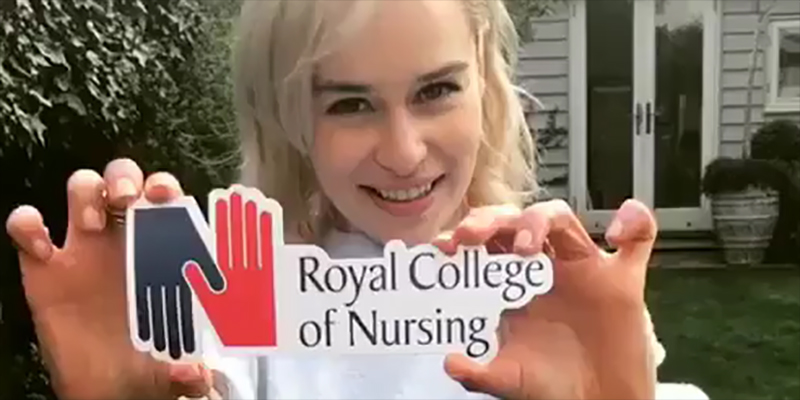 As the RCN's sole ambassador, Emilia will use her high profile to campaign for greater investment in nursing and to challenge misconceptions.
Best known for her role in HBO's Game of Thrones, she has launched an online auction where bidders are offered the chance to spend a day with her on the programme's set during the recording of the final series.
Proceeds of the auction will go to the RCN's nursing charity, the RCN Foundation, which will use the funds to launch educational and research grants to support specialist nurses.
The first nurses will begin to receive funds from the auction later in 2018.

Emilia said: "By taking part in the auction you will be helping to fund a new generation of specialist nurses. They deliver leading edge innovative practice and care in all specialist areas to improve survival rates and reduce hospital stays.
"They also help those of us with long term conditions to manage them so we can live our lives to the full.
"The vast majority of health care in our lifetime will come from nurses so join me in supporting nurses by donating."
A champion for nursing
In her new role, Emilia will join frontline nurses and health care workers to tackle the issues affecting the profession, including a falling number in training and shortages in the current workforce.
She will use her personal social media to extend the reach of campaigns to promote the work of nurses. She has previously used her Instagram account – where she has 16.7 million followers – to support the RCN's successful campaign to end the 1% cap on nurses' pay.
Emilia said: "I am fiercely proud of my new role as ambassador and vow to use it to champion nurses and their work. Together, we must attract young people into the profession, support them to innovate and become the powerful nurses of tomorrow."
The auction to spend a day with Emilia on the set of Games of Thrones runs for four weeks on fundraising website Omaze.