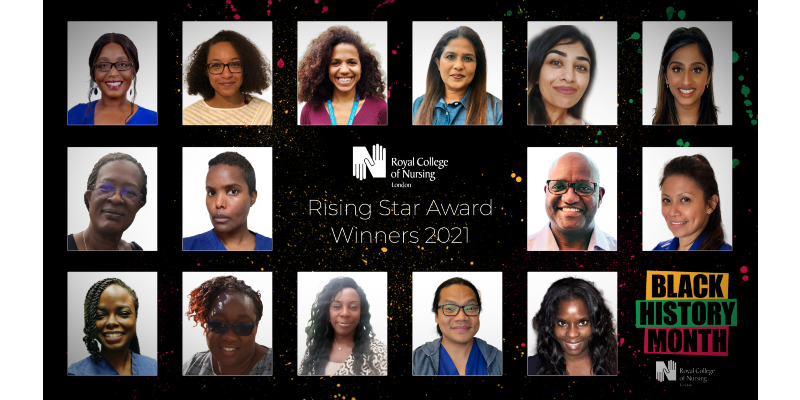 The Rising Star Awards recognise nurses and healthcare support workers from London's Black, Asian, and Minority Ethnic (BAME) nursing community who have made an outstanding contribution to the capital's health and care system. The theme this year is anti-racism: a time for literacy and transformation.
The winners were recognised for championing culture change and acting as role models; educating and mentoring colleagues to create more inclusive and supportive working environments; and for using their own experience to bring about meaningful improvements in services for their patients, particularly patients from a BAME background.
The winners work across a range of settings in London including in hospitals and out in the community, and in specialist areas such as stroke services, substance misuse, and end-of-life care.
Rising Star winner, Jesca Gudza, the only Looked After Children's Nurse in Bexley, said:
"It is an honour to be recognised as one of RCN London's Rising Stars. As a black nurse originally from Zimbabwe, I hope my award shows other nurses from abroad that our contribution does matter and that we are valued members of London's nursing community."
Another winner, Ann Roberts, a specialist palliative care nurse who started her role on the first day of lockdown in March 2020, said:
"I am deeply touched to have been nominated for this award. Although it has been a steep learning curve I work with an exceptionally generous and supportive team. For me, it is a privilege to be able to care for people at the end of their life and I am proud to work in service that provides care that always strives to understand and respects people's uniqueness, culture beliefs and values."
Congratulating the winners, RCN Regional Director for London, Lisa Elliott, said:
"Our winners this year are trailblazers, calling out unacceptable behaviour while inspiring colleagues to bring about real improvements in their workplace culture. They used their own lived experience to create more engaging ways to deliver more personalised care to their patients.
While there have been some improvements to reduce racial inequalities in London, cultural transformation in the health and care system is not happening fast enough. Too many of the capital's BAME nursing community still feel unheard, dismissed, and are rightly impatient for change. Employers must lead from the front, take a zero-tolerance approach to racism, continue to roll out practical actions to empower, promote and educate all staff members".