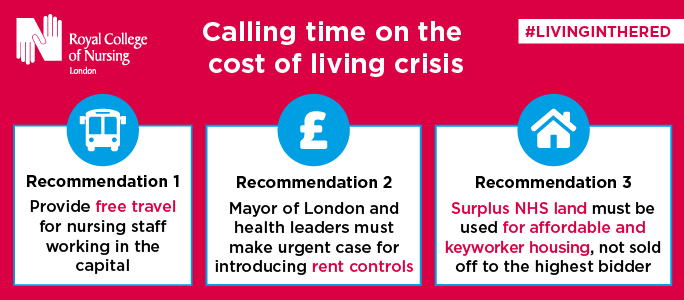 Today, RCN London published its new report Living in the Red: the cost of living crisis for London's nursing workforce. The report investigates how London's cost of living impacts on nursing staff working in the capital. The report is available here.
Based on a survey, our report shows that London's high cost of living is forcing nursing staff out of the capital due to high accommodation and travel costs. Members told us they feel less financially secure compared to 12 months ago and 57% said they are considering or planning to leave London in the next five years - up 17% from 2016. Spiralling transport and accommodation costs were cited as the two main factors.
This is all set against a back drop of rising nursing vacancies across London – currently there are 10,550 vacant post in the NHS in London.
RCN London is making a series of bold recommendations to tackle the cost of living crisis and is urging the Mayor of London and health leaders to urgently review how they can be implemented. They include:
Introducing free travel to aid the recruitment and retention of nursing staff in London;

Devolving powers to the Mayor of London's office to introduce a system of private rent controls that can support more nursing staff to live in London;

Halting the sale of surplus NHS land and using it to develop thousands of keyworker, social and genuinely affordable homes to bring down London's nursing vacancy rate;
RCN London is making the demand of all London Mayoral election candidates and says the measures could significantly soften the impact of the high cost of living in London and enable London's health and care services to better recruit and retain staff.
RCN London Operational Manager, Mark Farmer, said:
"Nurses are fundamental to the health and success of any city, and where there are shortages patient care suffers. With London's NHS still having the highest number of nurse vacancies in England, the connection between the staffing crisis and the city's cost of living cannot be ignored any longer.
Business as usual won't solve this crisis of affordability in the capital, and failure to think big will threaten the very ability of London's NHS to staff its service safely now and in the future."