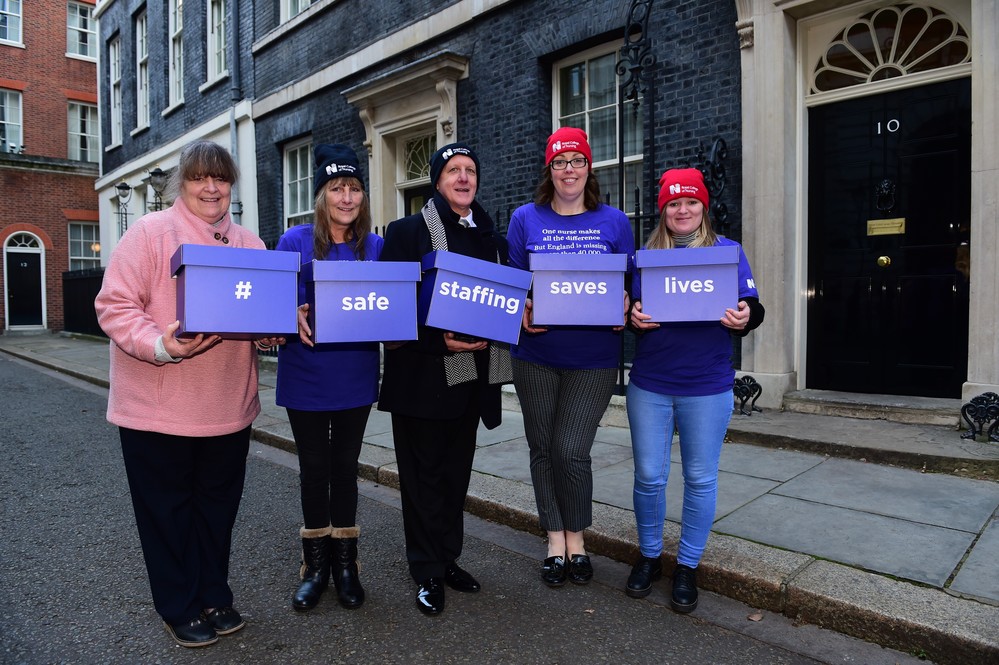 Nursing staff arrived at Downing Street to hand in the RCN petition and petition started by London member Danielle Tiplady totalling over 220,000 signatures from frontline health care staff, their patients, as well as members of the public demanding that resolving the nursing workforce shortage in England is the highest priority for the Government.
The call comes as the NHS in England operates under record vacancies, with over 10,550 in the capital alone.
The handing in of the petitions is part of the RCN's Safe Staffing campaign calling for investment now for financial support to cover tuition fees for the nursing degree and a change in the law to ensure there is accountability for the health and care workforce.
Mark Farmer, Operational Manager, RCN London said:
"Today is a momentous day for our campaign with the staff staffing petitions delivered to the heart of Government demanding action now.
"From campaigning outside Tooting Broadway tube station on a cold December day, to speaking to hundreds of members of the public at our day of action at Westfield Stratford, RCN members from across London have played a crucial role in raising awareness about why staff staffing matters. With over 10,500 vacant nursing posts in the NHS in London alone, patients and their families deserve better.
"We cannot get complacent. We still have a lot of work to do to convince politicians that they need to change course.
"We need legal accountability to ensure there are enough nurses now and for the future to give safe and effective care to all of their patients. We can only achieve this if members continue to actively campaign for the change they want to see. RCN London stands ready to support and help drive the campaign forward across the capital."