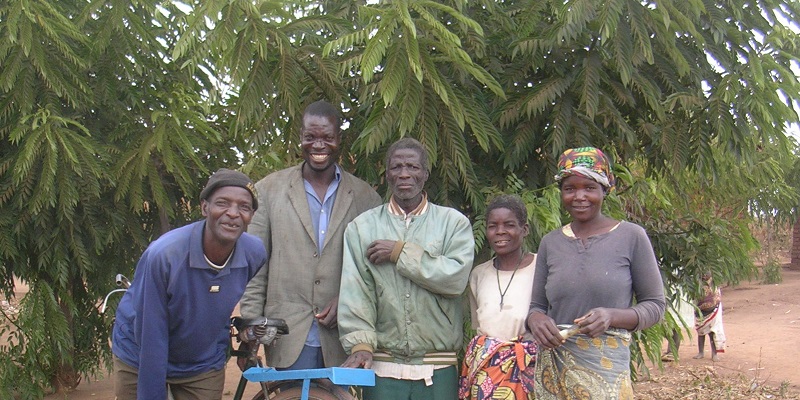 The Landirani Charity was established by Heather Palmer, now CEO, who after visiting Malawi and witnessing the need felt compelled to take action. Heather's parents were missionaries, and her brother married and later died in Malawi. On a trip to visit her brother's grave, Heather made the commitment to return and help, and thus the Landirani Trust was born.
Bernell and his wife Angela were escorted around the Trust facilities by Ida Mwangala, Country Manager for the Landirani Trust and Gift Banda, driver and Landirani employee. Landirani translates in Malawian to "Please Receive". For the first visit they went to Chitsine Village to meet an HIV/AIDS support group established several years ago to combat local hostility for those who were stigmatised because they had HIV/AIDS. The group is 13 strong and Bernell and Angela met six of their members.
The next visit was to M'bang'ombe Maternity Unit and Medical Centre, both served by one clinician, one (male) nurse/midwife and a community midwife. On arrival there were lengthy queues around the medical centre and drug dispensary where Dr Archangel Kaminga, Medical Assistant was in charge. He said that he was the only clinician/medic for miles and so must deal with anyone that came through the door.
Dr Kaminga lives onsite with his family, works 07:30 to 16:30 every day and is on call 24/7. The nurse/midwife works the same shift pattern. The community midwife largely undertakes rounds on foot unless a lift can be begged. In the ten bedded maternity unit were two new mothers who had given birth at 2 and 3 days previously with children, both daughters, who weighed in at around 3kgs. Also in the unit was a young woman in early labour in the process of giving birth to her second child.
After leaving M'bang'ombe Maternity Unit the group visited the Kunje family who have a twelve year old son disabled by cerebral palsy. His name is Kandwani which means "rejoice" or "be happy". For several years Kandwani spent each day lying in bed in a darkened room. His delight in seeing Ida and Gift was palpable and perfectly understandable as the Landirani Trust had donated a wheelchair to him and his family, continuing to offer support, thus allowing him to go to school.
The last stop was the M'teza, Landirani Trust village and vocational training centre that is in the process of being built. It is a significant site and will provide educational and vocational development programmes for adults and a school for children. Already in operation is a fairly extensive "M'teza Community Library" run by Chikondi Kanambo. Progress has been possible because of a significant donation from an English donor whose son died, and the village name will soon be changed to Sam's Village in his memory.
On return from the trip, Bernell said: "What really struck me was how much we in the UK have and yet we are always craving for more and mostly ungrateful even when we get it, pitted against the people we met who have little but are thankful and so appreciative of even small gestures of help. The way of the west is to think we are teaching them, but we have much to learn about being resourceful and making the best of what we have."
RCN London are proud to have been able to play a small part in supporting the huge range of work which the trust carries out. One further change has been in the trust's name: they will now be known as African Vision Malawi. Much more information about their work and details of how you can support them are available at the website: http://www.africanvision.org.uk/
For more information about the work of RCN London please visit www.rcn.org.uk/london