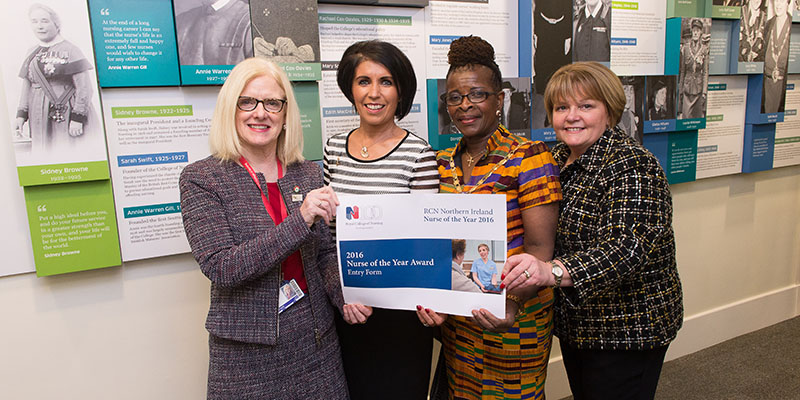 The Royal College of Nursing will celebrate its centenary this year. As part of a series of UK-wide events, the main celebratory event in Northern Ireland will be the RCN Northern Ireland Nurse of the Year Awards 2016 which will take place on 12 May 2016 at Hillsborough Castle.
Organised by the RCN, this is the twentieth year of the awards which are designed to recognise and reward excellence in the nursing profession.
Janice Smyth, Director of the RCN in Northern Ireland said: "The aim of the RCN Northern Ireland Nurse of the Year Awards is to highlight the contribution that nurses make to patient care and the developments and innovations they are leading to improve it.
"Over the past 20 years we have seen outstanding examples of nurses developing services for patients that make a real difference to improving the health of people in Northern Ireland.
"Nurses work extremely hard to provide a high level of care to patients, often in pressurised environments, and play a leading role in developing our health services. At a time when the provision of health care is undergoing continuous change it is crucial that we show our appreciation and recognise and reward excellence in nursing. Nurses are working hard on a daily basis to provide safe and effective care to patients.
"We are delighted to welcome a number of additional sponsors to support the awards in this special year.
"Cancer Focus and Macmillan Cancer Support have joined forces to sponsor a Cancer Nurse Award. The Craegmoor group has kindly supported our Health Care Support Worker Award. The Health and Social Care Board is supporting a Practice Nurse Award while a new Leadership Award is being supported by Silverdale Care Home and Roberta Brownlee. Finally the Defence Nursing Reservist Award has been created to reward a nurse serving as a reservist in the Defence Medical Services in Northern Ireland.
"I would encourage all health care staff to look at the categories and consider nominating a colleague. Nurses deserve to be recognised for the invaluable contribution they make to our health and social care service."
Application forms for all categories are available from the RCN by telephoning 028 90 384 600 or can be downloaded online at www.rcn.org.uk/ni-awards.  The closing date for entries is 12 February 2016.