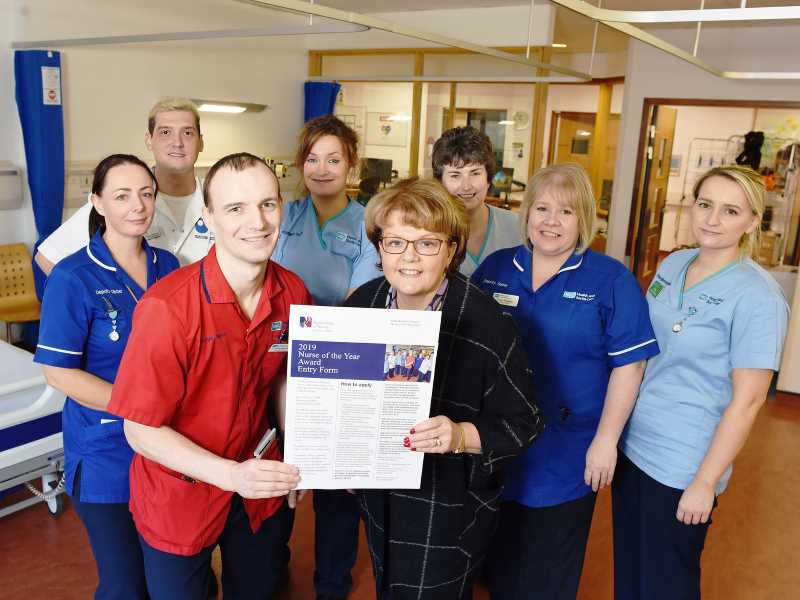 The search is on to find the Royal College of Nursing (RCN) Northern Ireland Nurse of the Year 2019. This will be the 23rd year of the awards which are designed to recognise and reward excellence in the nursing profession. This year's ceremony will be held on 6 June at the Culloden Hotel, Holywood.
Current Nurse of the Year, Chris Wamsley, who works at the Mater Hospital in the Belfast Trust, received the award for leading a ward team that had previously felt demotivated and lacking in direction, and working with them to develop a vision of the care they wished to provide for patients.
He designed the Dress for Success initiative which focuses upon promoting person-centred care, dignity and independence by encouraging patients to get out of bed, get dressed and remain mobile, wherever possible. The initiative promotes the increased involvement of relatives with the care of the patient and protects time for staff to engage in purely social interaction with patients. Evaluation highlighted how patients' experiences and safety have improved through being in greater control of their own care and how the initiative promotes more accurate assessment and safer discharge.
Janice Smyth, Director of the RCN in Northern Ireland said: "The aim of the RCN Northern Ireland Nurse of the Year Awards is to highlight the contribution that nurses make to patient care and the developments and innovations they are leading to improve it.
"Over the past 23 years we have seen outstanding examples of nurses developing services for patients that make a real difference to improving the health of people in Northern Ireland.
"Nurses work extremely hard to provide a high level of care to patients, often in pressurised environments, and play a leading role in developing our health services. Health care provision is undergoing continuous change and it is crucial that we show our appreciation and recognise and reward excellence in nursing.
"The awards are also an important opportunity for the public to show how much they value the care they receive. Any member of the public can nominate a nurse or health care assistant they feel has made a special contribution to their care, or to the care of a friend or family member, for the Patient's Choice Award.
"I would encourage all health care staff to look at the categories and consider nominating a colleague. Nurses deserve to be recognised for the invaluable contribution they make to our health and social care service."
Application forms for all categories are available from the RCN by telephoning 028 90 384 600. The closing date for entries is 15 February 2019.