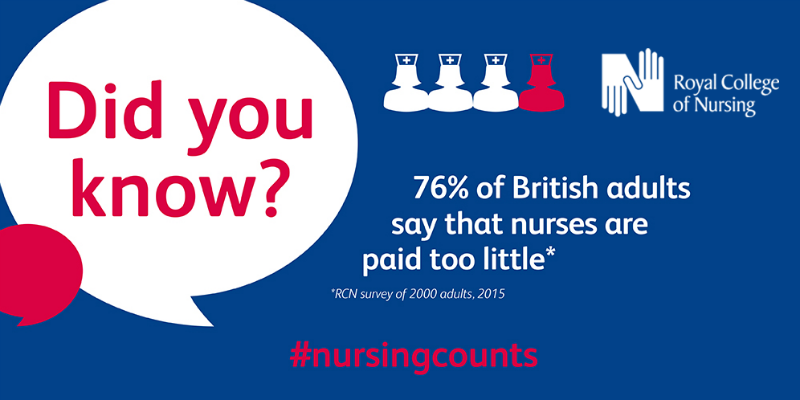 "I wrote it late last night after I got home from work," said Claire, an RCN learning representative from Durham. "I thought of all the hardship we all suffer: the lack of money and the inadequate staffing levels, and it just flowed from there."
Claire's poem is reproduced below:
"Dear Mrs May I extend to you an invitation to walk in nurse's shoes.
Not to sit and visualise but witness our lives with your own eyes.
We see fear and sadness, life and death; sitting with people as they take their last breath.
We witness joy and support the beginning of life brought into this world by skilled midwives.
We care for people so mentally ill often brought into hospital initially against their will.
We are subject to violence and aggression but we don't falter only showing compassion.
Then we go home to families and friends, we juggle our finances to meet the ends.
Some of us working extra jobs to balance the books and get bits and bobs.
We hide the financial strain we feel to ensure we provide a hot meal.
How often do you visit a food bank Mrs May, because the money you earn isn't enough to pay
For basic expenses to live day to day?
For food for the family due to fuel bills, two jobs to work, often against our will?
How often do you need to choose between food, heat or light?
We are slowly becoming weary but won't give up this fight.
We are fighting you see for what's rightfully ours
While you sit in your ivory towers.
It is not about pay rises; we have had a pay cut
Of fourteen percent so enough is enough!
Walk in our shoes and see what we see I defy you Mrs May to ignore our plea.
We will continue to fight, not waiver or flap
We are only asking for what we deserve:
Theresa May - scrap the cap."
Find out more about the RCN's scrap the cap campaign and become a pay champion to raise awareness of the impact of the one per cent pay cap.