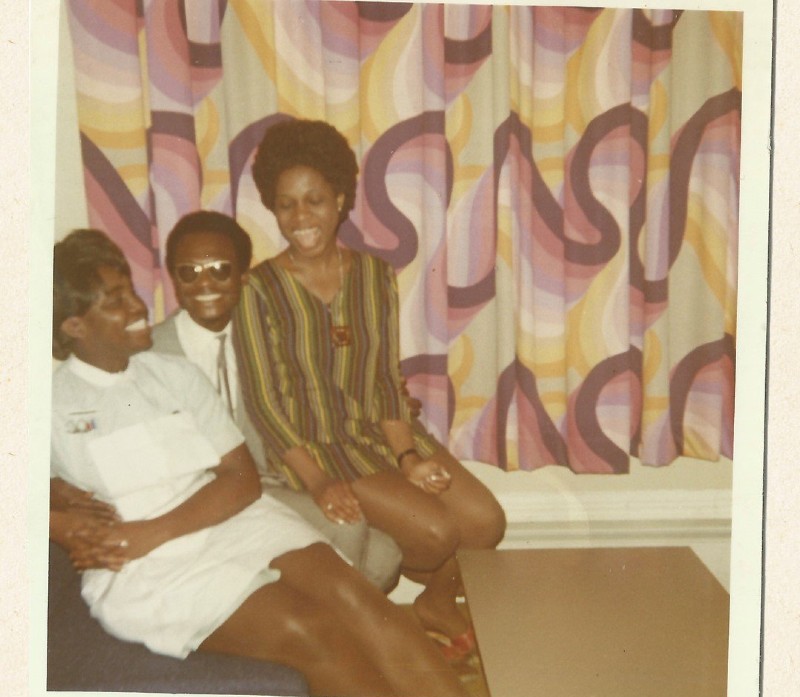 Our Inclusion Cafes are all about coming together to share stories celebrating the diversity and richness of nursing, past and present. They're also safe spaces to share challenges and have honest conversations about racism and discrimination.
This Living Library event was a really special one, held in partnership with the wonderful Migration Museum.
We invited a collection of nurses and health care workers who acted as 'books' for the evening, with their own unique book titles. Attendees had the chance to 'borrow' a book from the Living Library, ask them questions and learn about their experiences of nursing and beyond.

It was an honour to have so many incredible books with us. Titles included:
From Sugar to Silk by Alift Harewood MBE
From Trinidad to Eastbourne by Dionne Daniel
The memoirs of a Black British NHS Mental Health Nurse by Carol Webley Brown
The Yemeni from the Black Country by Ofrah Muflahi
Tell Me Something I Don't Know by Allyson Williams MBE
The Rebel Made Good by Lola Oni OBE
Amplifying the Voices of Black Nurses by Neomi Bennett BEM


In a complex weave of break out rooms, every attendee had a personal chat with each book as they moved around our online library. It was a truly wonderful and empowering event for many. But also, one punctured with the realities of what it meant to be an im/migrant and/or black healthcare worker in the UK, whilst holding onto their identity and fighting for their rights.

Below is the book blurb written by Allyson Williams MBE, who named her book Tell me Something I Don't Know. You can also learn more about Allyson's nursing experiences (and how she got involved with Notting Hill Carnival) on the Migration Museum's online exhibition 'Heart of the Nation'.
We are hoping to add more 'back cover book blurbs' of our other guests to this page, so keep an eye out and we will share on social media @RCNLibraries #WindrushDay
Tell me something I don't know by Allyson Williams MBE

I decided to train as a nurse because I wanted to be like my mother. She was proud and passionate about her nursing career, and I wanted to feel the same. I participated in the British Government recruitment campaign, inviting people to come to England to rebuild the mother country, and in particular the newly developing National Health Service.

I came from Trinidad to London in May 1969, excited that many of the hospital staff were from the Caribbean, but the reality was very different. I was unprepared for the hostility and overt racism that I experienced from the patients. It was shocking and distressing to me.

My mother advised me not to give up and continue to follow my dream. She said that the problem was theirs not mine. I finally found the courage to take a stand and confronted the abuse by saying publicly.

"I know that I am black for 21 years. Tell me something I don't know".

This was a life changing moment for me, as I felt empowered, with a new sense of freedom. From that moment on, I did not allow the abuse to bother me. I was able to challenge and confront the abuse throughout my career. I began to enjoy my work and explore my new life. I settled in midwifery as I felt it was such a privilege to bring new life into the world.

My journey was a hard but rewarding experience, progressing from my days as a student, a qualified nurse and midwife, a Manager, Deputy Head of Midwifery, and becoming a Member of the British Empire.

I applaud the many unsung heroes of my generation with similar experiences, whose legacy paved the way for their families and firmly cemented the new face of multicultural Britain.
The rebel made good by Dr Lola Oni OBE FRCN
I came to the UK aged 9 to join my mother who was doing her nursing training at the time. I hated England because it was 'cold, cold, cold' and I hate the cold. Worst of all the children in school picked on the 'new girl from Africa' with her knotty hair and funny accent. They taunted me at every opportunity. Every day I cried "I want to go home back to Nigeria". Everyone worried about me, and schoolteachers advised my mother to send me back to Africa for fear I would become depressed or develop mental ill health. My mother's response is "don't worry she is my daughter; she is tough she will survive".
Obviously my mother did know her daughter I am tough so I learnt to fight for myself and became the tough cookie who would not stand for any nonsense I became labelled 'the rebel', the one that is always in trouble, not like her well behaved siblings; I recall my head teacher telling my mother "she will not amount to much" or words to that effect, my mother rejected the prophesy and just prayed and prayed and prayed. I challenged every authority and became very popular for all the wrong reasons, fighting, rebelling always in trouble.
When I said I wanted to be a nurse my mother tried very hard to dissuade me, knowing I was a 'rebel' she felt I would not last in the training let alone in the career; she was worried I would not tolerate the authority and discipline, but more importantly the prejudices and injustices she and her other Black colleagues experienced on a daily basis in the NHS. But the allure of the starched uniform, the dress, apron, puff sleeves, belt & buckle and the batman like cape that was it I must become a nurse. My mother's efforts to push me to do medicine failed and I went to nursing school in Kent & Canterbury hospital in Kent.

The words "she will not amount to much" always echoed in my head as I went through my training and subsequent career, I had to prove my teachers wrong. The rest is history.
I went on to become a state registered nurse, midwife, and health visitor. I look back at the rebel who was destined to 'fail' and I say 'I am the rebel that has made good against all odds'. I rejected the negative prophecies and by God's grace I have achieved all my ambitions and more. My mother was so proud when I achieved my BEd Hons degree with a dual qualification as a nurse tutor and lecturer in health visiting; she was even more proud when I received an OBE from the Queen in 2004 for services to the NHS and became ecstatic when I obtained my PhD in 2007. She said at the time, "I wish your schoolteachers could see you now, the little girl they had written off as a rebel that is doomed to fail" and I would repeat the mantra, "yes but the rebel has made good".

I have just been awarded a Fellow of the Royal College of Nursing (FRCN) and if my mother was alive, she would have felt even prouder that her daughter has achieved so much in a profession where she, as a Black nurse, experienced so many prejudices just by virtue of being a nurse in an era where such achievements were unlikely for a Black nurse.

Never write a child off, you don't know what their destiny holds and what they will become tomorrow. All they need is support, encouragement, and an opportunity to reach their full God given potential. No one has the power to determine your destiny except you and almighty God who is your creator and author and finisher of your destiny.
Yemeni from the Black Country by Ofrah Muflahi
أفراح المفلحي
I became a registered nurse in the 90's and worked in the NHS for most of my career. Whilst growing up my mother spent a lot of time in & out of hospital as she had end stage renal failure and I often watched the nursing staff looking after her. I was in my teens and doing a lot of the translation with my sister who is now a medic after becoming a midwife. My sister and I watched as clinical staff watched over our mum and my mum still asks me to this day …. Where is nurse Eleanor do you know her daughter? My mum never forgets the compassion nurse Eleanor showed her in those difficult times. It was hard for mum leaving the country she knew, and I often think about the sacrifices she and dad made and the family they left behind. Dad worked in the foundries in the Black Country – some say that's where the name came from as the soot would emanate from its factories, and many Yemeni men worked in the foundries in the 60's and beyond...
I started my career as a care assistant and was determined one day that I would be like the nurse who inspired me so much whilst growing up. I knew my heart was in nursing, but it was often difficult as the only Yemeni girl in the community going into nursing, probably because no one else was doing it, so to me it felt like I was making the first step to challenge some of the misconceptions in my community, but I left home and started my nurse training at the Sister Dora Hospital in Walsall and then decided to focus on children's nursing.
I have had many roles in the NHS over the years from staff nurse to senior nurse, working as a sickle cell and thalassaemia specialist nurse, working as a community nurse, a school nurse in a special school, being a directorate lead nurse, and even a deputy head of quality, and truthfully, I never thought that nursing could open so many doors to give me the experiences I have had. I am still passionate today as the day I started. My father is no longer with us, and I will never forget the day he saw my navy-blue uniform and the pride he felt and showed stays with me to this day… I have had highs and lows throughout my career, but I am ever so grateful to my mum and dad who left their home, their culture, their family, their loved ones and their country.
I do still believe that all nursing staff join the profession to make a difference to those who need us at their most vulnerable moments in whatever role we do, and we always strive to achieve this through any challenges that we face. I see the value and contribution immigration makes in health and social care and the contributions we have made and continue to make.