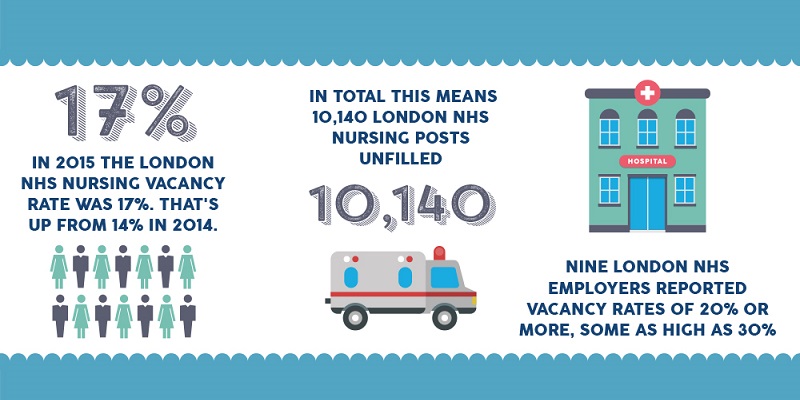 The Royal College of Nursing in London today publishes new research showing the capital's nursing shortage deepened last year, with over 10,000 vacant nursing posts in the region.
The total is equivalent to 17% of all London's registered nursing posts in 2015 – up from 14% in London in 2014 and 11% in 2013, and much higher than the national average of 10%.
The survey is based on Freedom of Information returns from all of London's NHS trusts. A full PDF list of the breakdown reported by different trusts can be read here.
RCN London said that historic cuts to training places, plus the ongoing pay freeze imposed by the Government, meant many London trusts were unable to find as many permanent staff as they need.
The shortage means employers are having to choose between putting patients at risk by running wards short of staff, or turning to expensive solutions like temporary agency staff or recruiting overseas.
RCN London Regional Director Bernell Bussue said: "London faces a critical shortage of registered nursing staff. This new research shows 10,000 vacant nursing posts in London, a rate of around 17%. London needs more nurses.
"The problem is partly down to shortsighted workforce planning which saw training posts cut in the past, meaning there aren't enough home grown nurses coming through the system.
"Most importantly, the ongoing pay freeze imposed by the Government means that nursing staff increasingly just can't afford to live and work in London. Pay has run 10% below inflation since 2010.
"The Government urgently needs to give nursing staff a pay rise at a level which helps them settle in the capital for the long term, before staffing shortages start to damage the quality of care which London's patients receive."
-Ends-
For further information please contact Ewan Russell, Regional Communications Manager for RCN London, on 020 7841 3337 or ewan.russell@rcn.org.uk