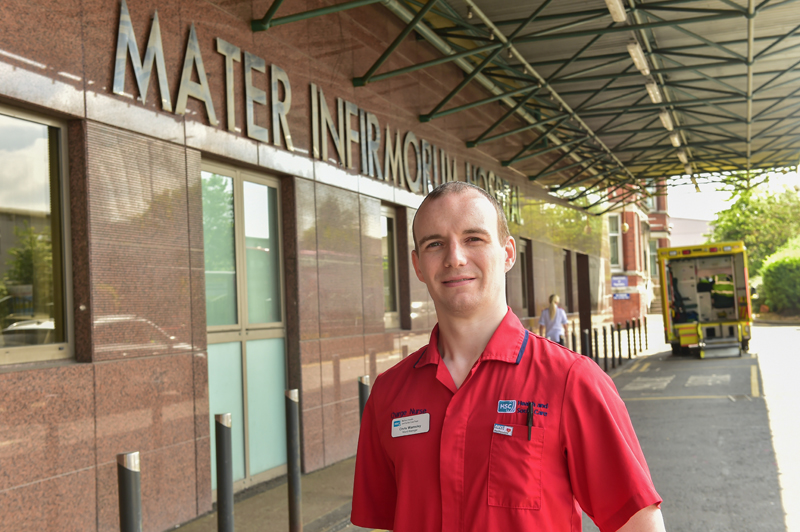 Chris Wamsley, from Dunmurry, was celebrating last night, Thursday 7 June, when he won the RCN Northern Ireland Nurse of the Year Award 2018.
Organised by the Royal College of Nursing (RCN), Chris was presented with the award at a special ceremony held at the Culloden Hotel, Holywood.
Chris, who works at the Mater Hospital in Belfast, was nominated for taking on a management role and leading a ward team that had previously felt demotivated and lacking in direction, working with them to develop a vision of the care they wished to provide for patients.
Drawing upon the #EndPJparalysis and The Last 1000 Days work of Professor Brian Dolan, he designed the Dress for Success initiative which focuses upon promoting person-centred care, dignity and independence by encouraging patients to get out of bed, get dressed and remain mobile, wherever possible. The initiative promotes the increased involvement of relatives with the care of the patient and protects time for staff to engage in purely social interaction with patients.
Evaluation has highlighted how patients' experiences and safety have improved through being in greater control of their own care. It also records how the initiative promotes more accurate assessment and safer discharge.
Chris' innovation has reduced reliance on community care packages and saved hospital bed days. The judging panel commended Chris for respecting and promoting patient dignity, individuality and choice, as well as engaging with and supporting staff to improve patient care.
Runner-up on the evening was Pauline Curran. An IV and subcutaneous lead specialist nurse in the Southern Trust, Pauline has enhanced the service for patients in hospital requiring intravenous antibiotics at home and who need a peripherally-inserted central catheter (PICC) line.
Previously, the procedure was completed by a consultant radiologist. However, Pauline researched other models of care and discovered that specialist nurses in England were conducting this procedure with the aid of ultrasound scanners. Following negotiation with a range of stakeholders, a specialist nurse-led pilot was established in 2017. This enabled PICC lines to be inserted by a specialist nurse at the bedside across all hospital sites in the Southern Trust.
The judging panel commended Pauline for demonstrating clearly how an evidence-based nurse-led service can produce better outcomes for patients and increase capacity within the hospital.
Roisin Devlin from Belfast was presented with the nurse leadership award sponsored by Roberta Brownlee and Silverdale Care Home. Emergency department lead nurse in the South Eastern Trust, Roisin was nominated for her leadership of the three emergency departments in the trust through a period of significant change.
Commenting on the Awards, Director of the RCN in Northern Ireland, Janice Smyth said: "Chris Wamsley identified the impact that hospitalisation can have on patients who had been living independently at home. This initiative has made a huge difference to these patients, promoting dignity and person-centred care.
"The judging panel was highly impressed at how Chris engaged and supported staff, built a cohesive team and improved staff morale through an initiative that enhanced the quality of patient care and patient's experience of care.
"This is the 22nd year of the Northern Ireland Nurse of the Year Awards which have highlighted some of the best examples of nursing practice. Despite the wider health service continuing to face challenges, particularly during this period where there is a vacuum in political leadership, it is important to recognise and value the excellent care nurses provide to the people of Northern Ireland.
"Through these awards we have seen several examples that show clearly the contribution that nursing is making to health service transformation in Northern Ireland. I am extremely encouraged by the excellence and innovation shown by our finalists who are a credit to the nursing profession."
RCN Northern Ireland Nurse of the Year Award
Winner
Chris Wamsley
Ward manager
Belfast Health and Social Care Trust
Runner-up
Pauline Curran
IV and subcutaneous lead specialist nurse
Southern Health and Social Care Trust
Commended
Ann Butler
Recovery College co-ordinator
Southern Health and Social Care Trust
Jackie Kearns
Inflammatory bowel disease nurse specialist
Northern Health and Social Care Trust
Public Health Award sponsored by HSC Board and Public Health Agency
Winner
Bernie Carlin
Family nurse
Northern Health and Social Care Trust
Runner-up
Bronagh Mulholland
Health visitor
Southern Health and Social Care Trust
Health Care Support Worker Award, sponsored by LV
Joint Winner
Philip Martin
Health care assistant
Southern Health and Social Care Trust
Joint Winner
Craig Chambers
Assistant falls practitioner
Northern Health and Social Care Trust
Learning Disability Award sponsored by Priory Adult Care
Winner
Joanne McConnell
Deputy sister
South Eastern Health and Social Care Trust
Runner-up
Jillian Scott
Health facilitator
Northern Health and Social Care Trust
Chief Nursing Officer's Award, sponsored by the Department of Health
Winner
Tracey Steenson
Rapid response co-ordinator
South Eastern Health and Social Care Trust
Runner-up
Conor McDowell
Charge nurse
Belfast Health and Social Care Trust
Student Award sponsored by Queen's University, Belfast
Winner
Andrew Turner
The Queen's University of Belfast
Runner-up
William Hanna
The Queen's University of Belfast
Nursing Research Award sponsored by the Ulster University
Winner
Donna McConnell
Ulster University
Runner-up
Helen Noble
The Queen's University of Belfast
Learning in Practice Award sponsored by the Open University
Winner
Joleen McKee
Staff nurse
Belfast Health and Social Care Trust
Runner-up
Claire Black
Nurse manager
Park Manor Care Home
Inspiring Excellence Award in mental health and learning disability sponsored by Inspire
Winner
Liam Dunne
Crisis services manager
Western Health and Social Care Trust
Runner-up
Julie McCormick
Early intervention team leader
Belfast Health and Social Care Trust
Cancer Nurse Award, Sponsored by Cancer Focus and Macmillan Cancer Support
Winner
Gloria O'Connor
Macmillan colorectal cancer clinical nurse specialist
Western Health and Social Care Trust
Runner-up
Louise Gribben
Haematology clinical nurse specialist
Southern Health and Social Care Trust
Dementia Nursing Award, sponsored by Runwood Homes
Winner
Maria Magee
Macmillan palliative care facilitator
Western Health and Social Care Trust
Runner-up
Jackie Williams
Ward manager
Northern Health and Social Care Trust
Inspirational Achievement in Addiction Services Award
Sponsored by Addiction NI
Winner
Yvonne McWhirter
Head of primary care and specialist services
Western Health and Social Care Trust
Runner-up
Kathy Goumas
Head of addiction service
Northern Health and Social Care Trust
Defence Reservist Nurse Award, sponsored by 38 (Irish) Brigade
Winner
Captain Nicola Dunlop
Clinical training officer/nursing officer
253 (NI) Medical Regiment
Runner-up
Corporal Christopher Finnegan
204 (North Irish) Field Hospital (Volunteers)
Leadership Award, sponsored by Roberta Brownlee and Silverdale Care Home
Winner
Roisin Devlin
Lead nurse, emergency care
South Eastern Health and Social Care Trust
Runner-up
Mary Burke
Head of medicine and unscheduled care
Southern Health and Social Care Trust
Patient's Choice Award, sponsored by the Patient and Client Council
Joint-Winner
Anne Phillips
Community psychiatric nurse
South Eastern Health and Social Care Trust
Joint-Winner
Mary Kane
Stoma care and inflammatory bowel disease nurse specialist
Northern Health and Social Care Trust
Outstanding Achievement Award sponsored by NIPEC
Winner
Martin Bradley FRCN