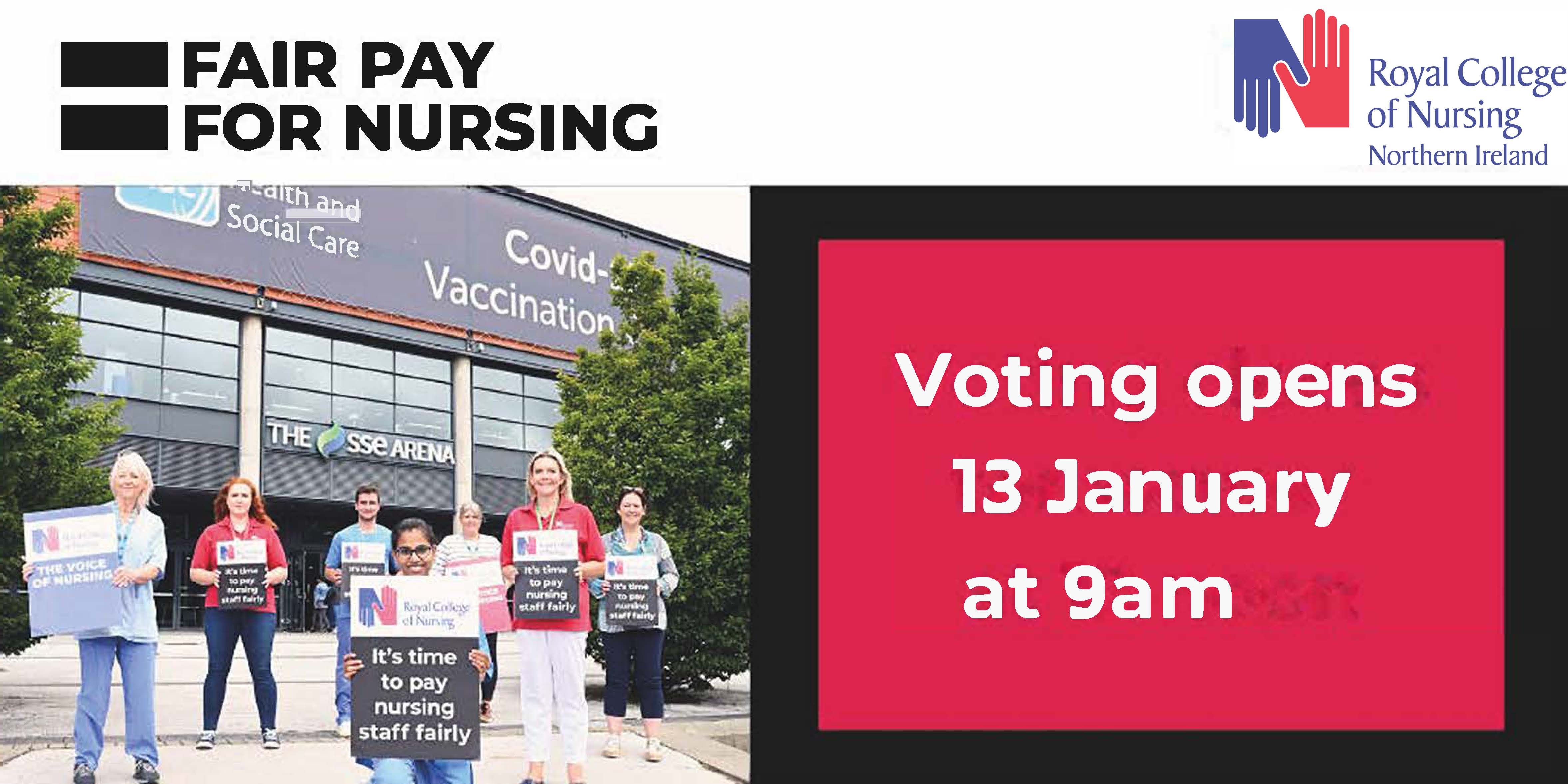 The RCN has today (13 January) launched a consultation on pay for members in Northern Ireland working under Agenda for Change terms and conditions. The ballot is asking members working in Health and Social Care (HSC) if the 3% pay award for 2021-22 announced last year is acceptable or unacceptable.
The consultation will be carried out by Civica Election Services (CES) to ensure independence and rigour. From today, members in Northern Ireland should look out for emails from Civica containing a link to vote. It will come from the email address RCN@cesvotes.com.
This is an opportunity for members to show how they feel about the pay award and inform the RCN's next steps. Members in England, Wales and Scotland have already been consulted on their respective pay awards.
It is vital that as many eligible members as possible take part. You will only be consulted if your RCN record shows that you work for the HSC in Northern Ireland. RCN members can update their details via MyRCN.
Fiona Devlin, Chair of the RCN Northern Ireland Board, said: "We promised members we would consult them on this pay award as soon as we could, and I would encourage every eligible member to vote to ensure that the RCN voice is heard loud and clear.
"Please encourage your colleagues to have their say also. Our profession deserves fair pay that recognises our skills, expertise and level of responsibility, supports retention and recruitment to ensure patient safety, and compensates for the failure of salaries to keep up with the cost of living over the last 10 years."
Rita Devlin, Director of the RCN in Northern Ireland, added: "Members in Northern Ireland have been waiting a very long time for this pay award. Colleagues across the UK have already had the opportunity to have their say on pay – now it is your turn.
"The fight for fair pay continues and won't stop until our safety critical profession is respected, and you are able to provide your patients with the quality of care that they deserve.
What's happening elsewhere in the UK?
In Wales, the RCN remains in a trade dispute with the Welsh government over the 3% pay award for 2021-22 and our elected members are deciding next steps.

In Scotland, RCN members also remain in a trade dispute with the Scottish government over the 2021-22 pay award, while we influence discussions directly with ministers for the 2022-23 award.

In England, we're preparing evidence to submit to the NHS Pay Review Body (PRB), which has been asked by the UK government to recommend a pay award for 2022-23.

The Northern Ireland Executive has also issued a remit letter to the PRB to advise on a pay award for the next financial year, with the Welsh government expected to do the same in the coming weeks.

Find out more about our Fair Pay for Nursing campaign.