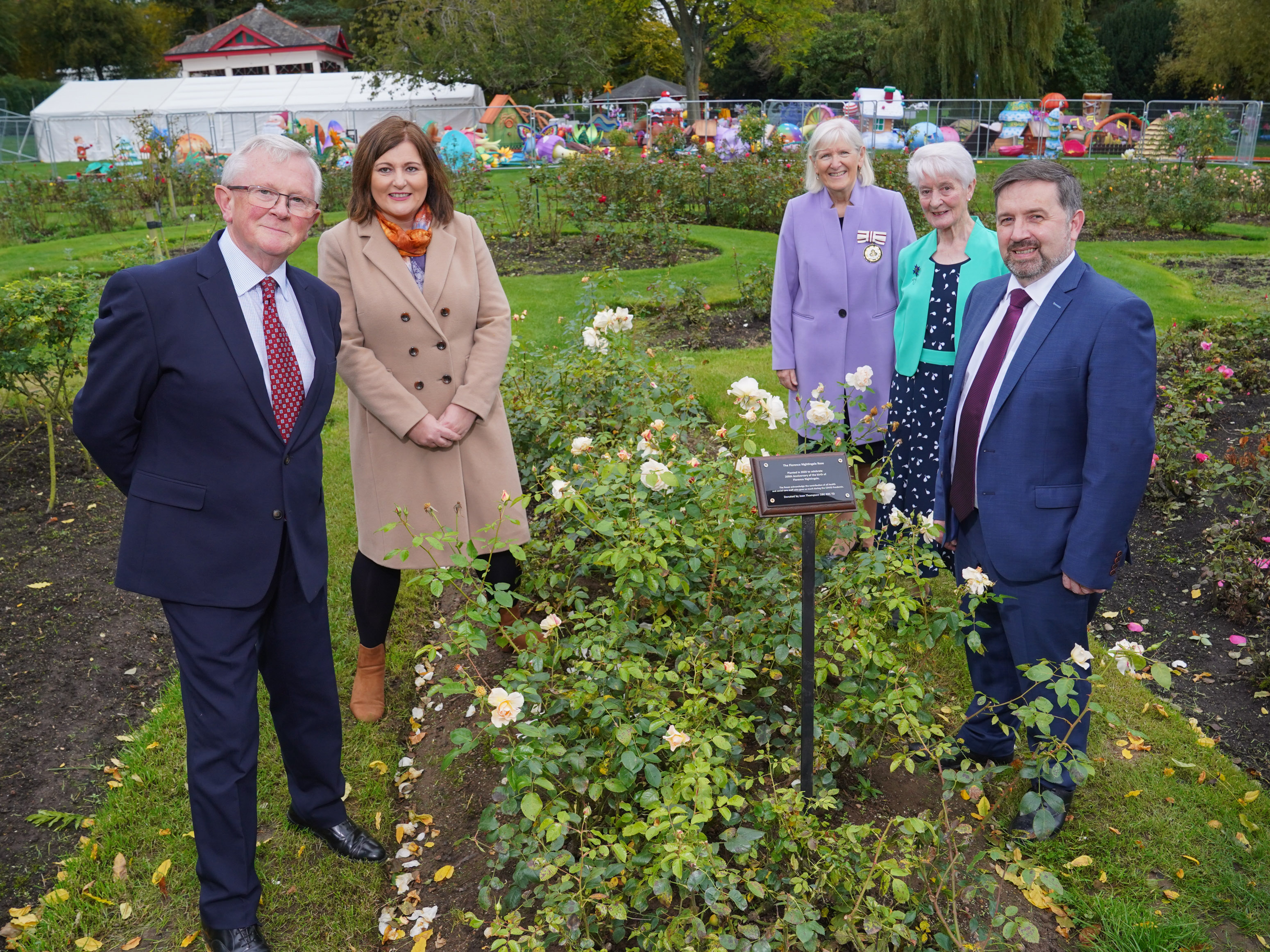 The Florence Nightingale Rose was donated by local nurse, Joan Thompson OBE, and formed part of wider celebrations, including an exhibition which ran in the Ulster Museum last year.
Health Minister, Robin Swann, unveiled the plaque alongside dignitaries including Deputy Lord Lieutenant for Belfast, Judith Hill and Chief Nursing Officer, Charlotte McArdle.
Speaking on behalf of the Lord Lieutenant for Belfast, Fionnuala Jay-O'Boyle, Judith commented: "It seems most appropriate that this bed of Florence Nightingale roses, generously donated by the distinguished nurse Joan Thompson will mark not only a significant anniversary, but an unsurpassable contribution to healthcare in this city.
"The rose is a recognised symbol of hope and as these plants put down roots and flourish, the hope is for better days ahead and better health in Belfast. This will act as an appropriate reminder not only of the tenacity and accomplishment of Florence Nightingale, but of every nurse and midwife across this city."
Royal College of Nursing (RCN) Fellow Martin Bradley, who also represents the Florence Nightingale Foundation, said: "I would like to thank sincerely Joan Thompson who generously donated these roses, and Belfast City Council, particularly gardener Colin Agnew, who have supported this important initiative.
"We have seen first-hand how nursing staff have cared for and shown compassion and support for patients and their families at this difficult time. This is a fitting legacy for nursing staff across Northern Ireland to mark what was originally supposed to be the year of the nurse and midwife."
The roses can be viewed in the Rose Garden section of Botanic Gardens in Belfast.