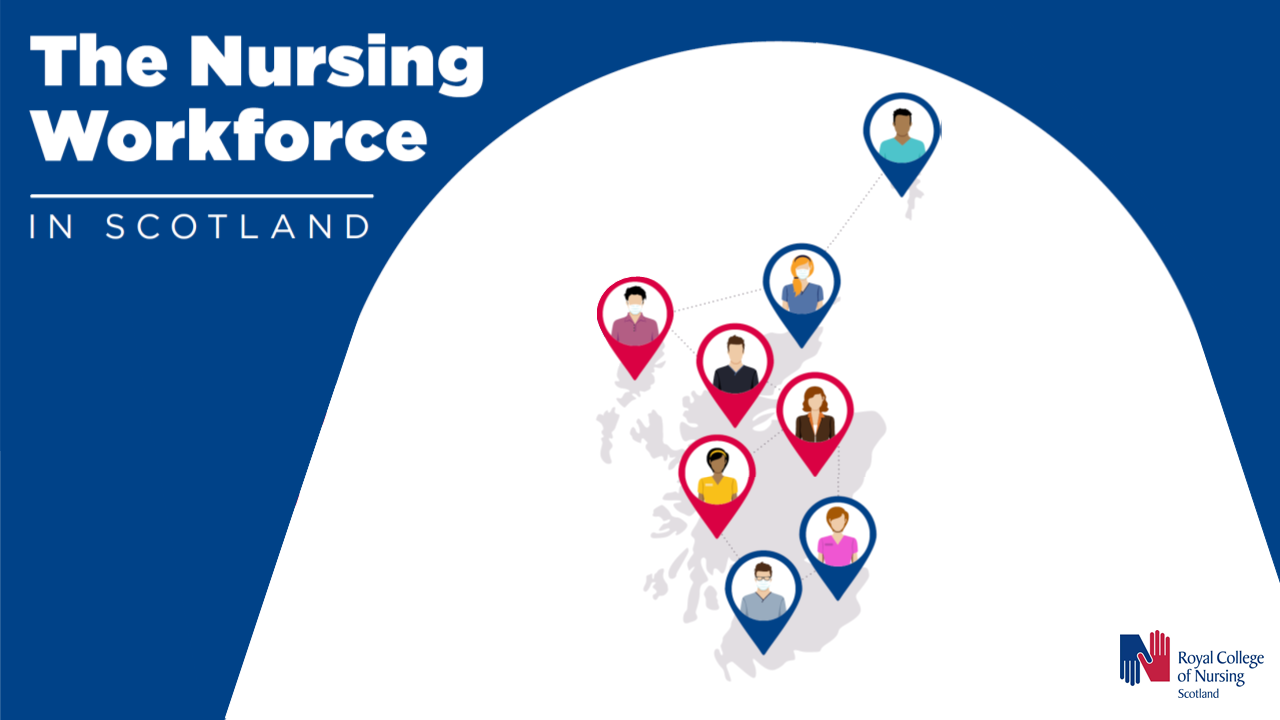 In the report, which contains a new analysis of nursing workforce statistics and challenges facing workforce planning, RCN Scotland highlights how the record-high vacancy rate for nursing staff is a serious threat to maintaining high quality patient care.
It underlines just how urgently action is needed to repair the harms caused to the nursing workforce by the COVID-19 pandemic as well as years of chronic under-investment before the pandemic.
The report sets out 10 recommendations, which include calling for:
A clear timetable for implementation of the Health and Care (Staffing) (Scotland) Act to be set out as a matter of urgency.
The Scottish government to increase investment in health and care services to employ more nursing staff and achieve safe staffing levels.
A commitment to continue to increase the number of nursing student places in line with workforce modelling rather than affordability.
The new workforce report is published in the lead up to a roundtable of RCN members with Scotland's politicians and senior nurse leaders this week focusing on valuing the nursing workforce.

Commenting on the launch of the report, Julie Lamberth, RCN Scotland Board Chair, said:

"Nurses and nursing support workers are exhausted and worn down by the past two years. But the pressures of the pandemic have exacerbated the long-term issues of a workforce which is undervalued and under-resourced.

"The NHS has relied on the goodwill of its staff for a long time. But nursing staff should not be forced to take on additional hours on health board nurse banks or nursing agencies, because they feel the need to support hard-pressed colleagues working with fewer staff than required, or to make ends meet.

"Many of our members are thinking about or actively considering leaving their jobs. Scottish government needs to make sure nursing remains attractive, well-paid and meaningfully supported, otherwise, we risk many of our members leaving the profession – at a time when they're needed more than ever."

Colin Poolman, RCN Scotland Interim Director, said:

"Many of the problems the report highlights are not new. Nurses have been telling policymakers and planners for years about the problems they face due to gaps in the numbers and not having the right mix of skills in the workforce.

"The Scottish Parliament passed ground-breaking safe staffing legislation almost three years ago. Yet the Scottish government has failed even to set out a clear timetable for implementation. And the Scottish government's workforce strategy, published recently, frankly raised more questions than it answered. It failed to set out a clear plan for how the government's vision will be delivered.

"Our meeting with decision makers this week is a timely opportunity for our members to set out what they feel is necessary to begin to solve the staffing crisis in health and social care nursing. It's time they were listened to."