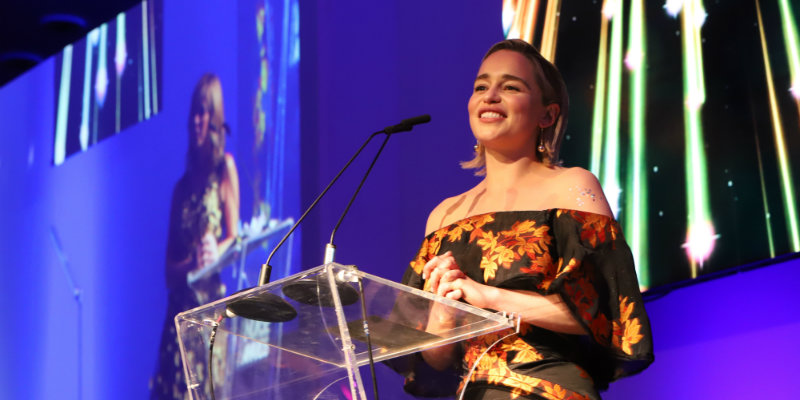 In her speech at the RCNi nurse awards, the RCN ambassador said: "Nursing is about more than just medicine; it's about engaging with another person on a human level. Like hugging a daughter who knows that she is about to lose her dad."
Speaking just days before the second anniversary of her father's death, she talked for the first time about his care and her experience of frontline nurses.
She said: "Our experience was shaped by the care he received. I was given the opportunity to be involved in the intricacies that made up a day of trying to save his life and it showed me with such clarity, not only the awe-inspiring skill that the nurses clearly had, but the emotional intelligence that came along with it.
"I know my dad received the best care and medical support from the nurses that dealt with every second of those dark days."
The actor also vowed to help make nursing attractive to the next generation of professionals, the day after NHS England launched one of the largest nurse recruitment campaigns in its history.
She said: "The money the NHS has to keep our nurses trained and at the forefront of health care has been cut in half this year in England. This has to stop, we have to make a change.
"We all know the frustrations that go along with student debt. To force the people who save our lives to live on food stamps has to stop. Now more than ever, we must value nursing."
She followed her speech by presenting two awards: to the top student nurse, Katie Dutton, and overall 'Nurse of the Year', Angela Hall.
Angela, a cardiac nurse, led Jersey General Hospital to be the first in the UK to use novel drug, Vernakalant, to treat rapid onset atrial fibrillation, as well as spearheading a rapid access clinic for patient's experiencing blackouts.
The annual RCNi Nurse Awards are the UK's most prestigious nursing accolades, recognising nurses who, every day, go above and beyond to save lives, provide outstanding care for patients and transform nursing for the better.