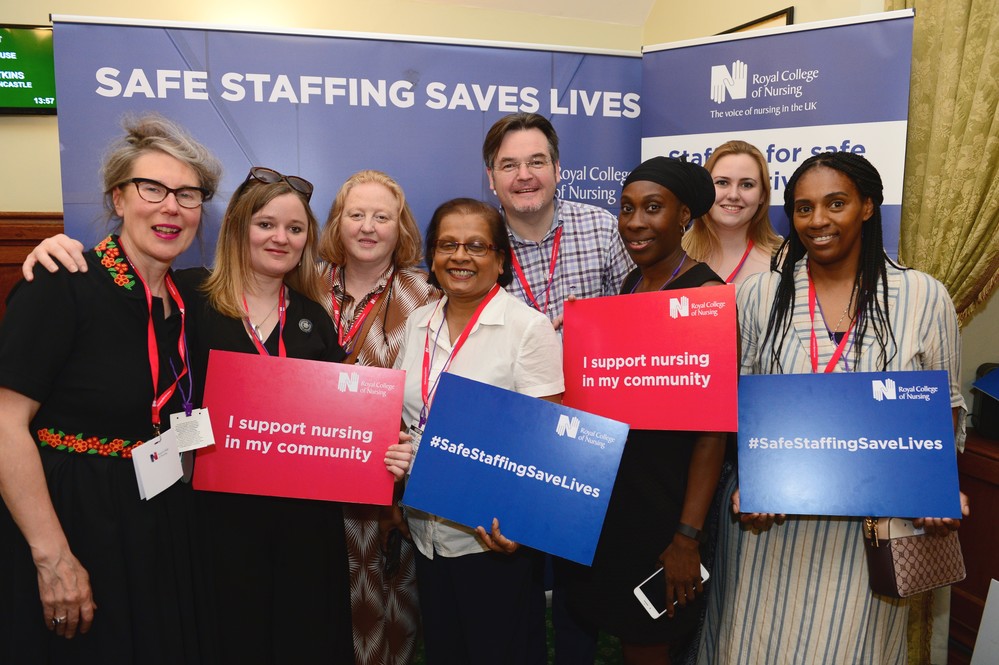 At the event in Westminster, nursing staff and students from London met MPs and peers from all parties to discuss their experiences on the frontline of a health service in the grip of its worst ever nursing workforce shortage.
RCN members spoke directly to MPs about their desperation in trying to provide safe care without enough nursing staff, and demanded that they back the RCN's campaign for new legislation to make Government and NHS bosses explicitly accountable for safely staffing health and care services in London and throughout England.
One in ten nursing positions in the NHS in England alone are unfilled, leaving a shortfall of around 40,000 nurses, including 9,333 in London. Over 10,000 nurses and midwives from EU27 countries have quit the NHS since the Brexit referendum in 2016.
Jude Diggins, Regional Director for the Royal College of Nursing London region, said: "Health and social care services across the capital have only survived this long thanks to the goodwill of nurses who routinely work many hours of unpaid overtime to cover for the almost 10,000 empty nursing posts in London - this puts nurses under impossible strain and means patients are being put at risk.
"Though the public might find it hard to believe, there is no way to hold Ministers and other leaders, legally responsible for ensuring that there are enough nurses – we are clear that this has to change if the nursing workforce crisis is to be addressed.
"Our members had a clear message for the Government – change the law so that Ministers can't starve health and care services of much-needed health care staff."
Ann Marie Muhammad, a clinical site manager from South London, said: "This was a fantastic opportunity for us to tell MPs about the pressures we experience every day because there aren't enough staff. .... "We love our jobs and I go into work every day to do the best we can for patients, but the truth is that we are more stretched than ever.
"We need more staff and more investment in the profession – that would make it so much easier for us to deliver the standard of care we went in to nursing to do."
The RCN is also campaigning for investment of at least £1 billion a year in nurse education, to attract and retain a new generation of nurses and make nursing a viable career option for people from all backgrounds.
To find out more about the campaign for staffing for safe and effective care, click here.