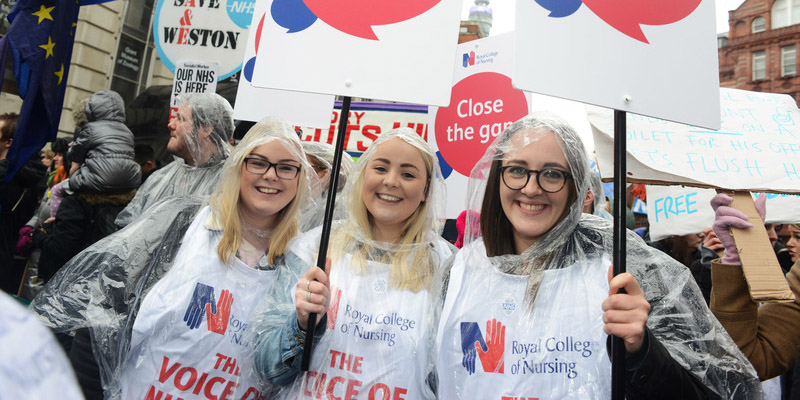 RCN members joined tens of thousands of protesters in London today to fight for the future of the NHS.
Activists braved the rain to march through the capital chanting "no ifs, no buts, no NHS cuts".
The event, organised by Health Campaigns Together and anti-austerity group the People's Assembly, culminated in a rally opposite Downing Street.
RCN President Cecilia Akrisie Anim delivered a passionate speech to the crowds gathered there.
"Nursing staff are bearing the brunt of the enormous pressures facing the NHS," she said.
"Staff at every level are experiencing burnout and many of our colleagues are turning their back on jobs they love.

"Urgent action is needed to address the current crisis - if none is taken, it is our patients who will suffer."
Her sentiments were echoed by other RCN members attending the march.
"I'm concerned and worried about the NHS, particularly its' patients. It's understaffed and underfunded," said Sam Newman.

Lucy Mason and Dann Gooding agreed: "We're student nurses and we're concerned about the future conditions for nurses and for patients."

The RCN supported members to attend as part of its Close the Gap campaign, which demands an above-inflation pay increase for NHS nursing staff.