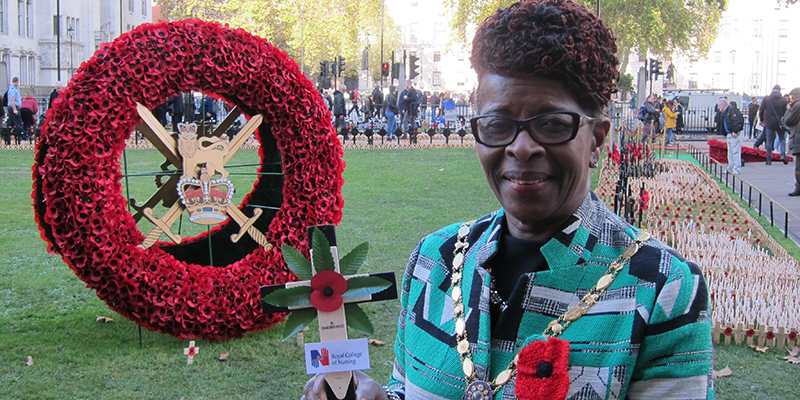 The RCN has paid tribute to the nursing staff who have been killed in conflict, as today marks 100 years since the end of the First World War.
RCN President Cecilia Akrisie Anim (pictured above) laid a wreath on behalf of the College at the Field of Remembrance at Westminster Abbey in memory of nursing staff who have sacrificed themselves to care for others.
More than 15,000 nurses served during the First World War as part of the Queen Alexandra Imperial Nursing Service and the Territorial Force Nursing Service (TFNS).
Joining representatives from other organisations to share memories and thoughts of those who died in conflict at a special event at Westminster Abbey, Cecilia said:
"Remembrance reminds us that much of the freedoms we have in the UK are because of those who gave their tomorrow for our today. Medical staff are still working to care for people living in war zones and we still have much to learn.
"As this year marks 100 years since the end of the First World War, we should remind ourselves that we should always strive for justice, peace and collaboration, rather than conflict."
The RCN is hosting its annual ceremony of remembrance on the evening of 27 November at its headquarters in London.
The service brings together RCN members, serving defence personnel and guests to publicly honour the selfless sacrifice made by nurses and other defence medical services personnel, killed or wounded caring for victims of conflict.
Anna Crossley, RCN Professional Lead for Acute, Emergency and Critical Care, said: "War is predominantly brutal, bloody and causes endless suffering in myriad ways.
"Health care and the professionals that drive it forward seek to learn, adapt and effect change rapidly in this environment to save lives and limbs with innovative practice.
"Members of the RCN Defence Nursing Forum have experienced the realities of conflict globally and seen the far-reaching impact both at home and abroad.
"However, our unique insight into these realities has helped us focus our professional activities to share lessons learnt for the good and benefit of others."
The RCN launched a website earlier this year that uses personal scrapbooks, diaries and photograph albums to bring to life the experiences of wartime nurses.
Service Scrapbooks: Nursing, Storytelling and the First World War showcases material from the College's archive collection to describe how nurses travelled overseas to work in military hospitals or treated injured soldiers evacuated back to Britain from the frontline.