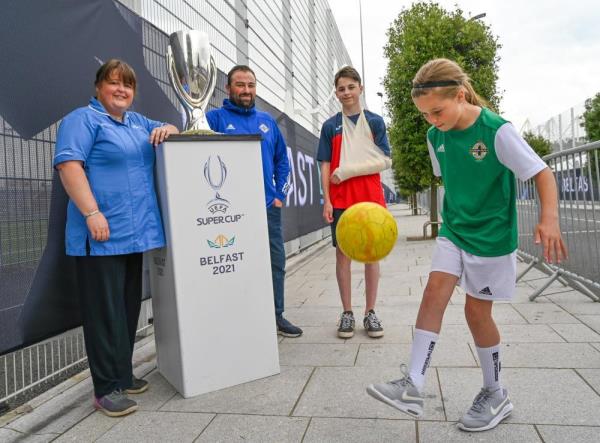 Nursing staff have dedicated the past 18 months to ensuring that patients have been cared for in hospitals and the community and for RCN rep Claire Pinkerton, the Super Cup taking place in Belfast is something to look forward to and celebrate after an extremely difficult year.
A busy mum as well as a nurse, Claire's daughter Grace plays for Linfield Youth Academy and her son Matthew plays for Ards Academy. Claire, who was completing her health visitor qualification during the pandemic, was redeployed as a district nurse.
She said: "It's been a really tough year for nursing staff in hospitals, the community and care homes. Working in the community during the pandemic, nurses were some of the only health care professionals patients were able to see in person during this time. We were still providing a service and caring for patients despite being under pressure with shortage of staff and absence due to isolating and COVID-19.

"Football is a big part of my family's life and when I'm not working, I'm inevitably running backwards and forwards to training and matches. I even managed to complete the IFA Women's Leadership in Football course during lockdown. It's great to see such sports back up and running again as it's such an important part of so many children's lives.
"I'm hoping with the availability and uptake of vaccinations that eventually the health service will come under less pressure than we're facing now, and we'll be able to get back to some kind of normality. For nursing staff, we need more nurses on the ground and to retain the ones we have. That's why I'm backing the RCN's Fair Pay for Nursing Campaign – we need safer staffing levels and fairer pay to keep the brilliant staff that we have and who have been working relentlessly over the past 18 months.
"As a football fan, it's fantastic to see the UEFA Super Cup being played at Windsor Park – it's very exciting to have such a high-profile game in Northern Ireland and I'm sure the fans will be out in force."