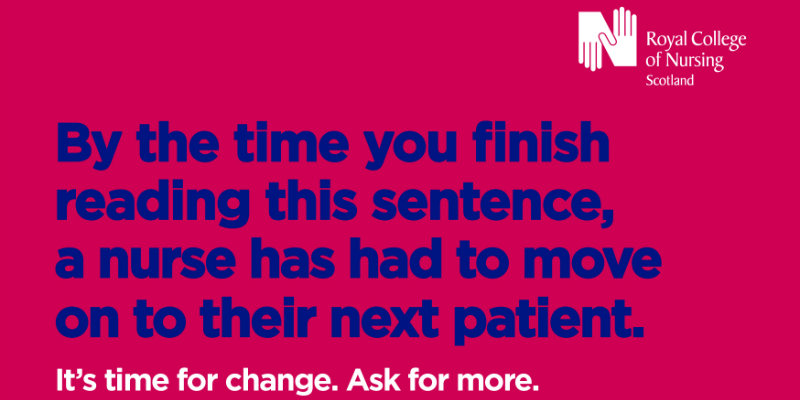 The campaign comes as the latest NHS Scotland workforce data shows the extent of nursing shortages across Scotland's NHS.

The nursing and midwifery vacancy rate now stands at 5.3% (3,311.2 WTE), the highest number of vacancies ever reported – one in 20 nursing and midwifery posts in NHS Scotland is vacant.

The RCN has previously called for legislation in each country of the UK to address staffing for safe and effective care.

In May, the Health and Care (Staffing) (Scotland) Bill was introduced to the Scottish Parliament.

The 'Ask for More' campaign will run throughout the autumn, as Members of the Scottish Parliament undertake their initial work on the Bill.
RCN Scotland Director Theresa Fyffe said: "Today's figures show the magnitude of the staffing shortage in nursing teams across Scotland's NHS.

"But it's not just our NHS hospital and community teams which are stretched to breaking point, those working in care homes are under the same pressure.

"It's time for change. Evidence shows that having the right number of nursing staff with the right skills and knowledge is linked to better outcomes. People deserve safe, high quality care for themselves and their loved ones.

"The Bill before the Scottish Parliament is an opportunity to secure change. If we get this legislation right it will help to ensure that nursing teams have the right staff to provide safe, effective and high quality care.

"That's why we're asking members of the public to make their voices heard loud and clear so that their expectations of care are met in reality."