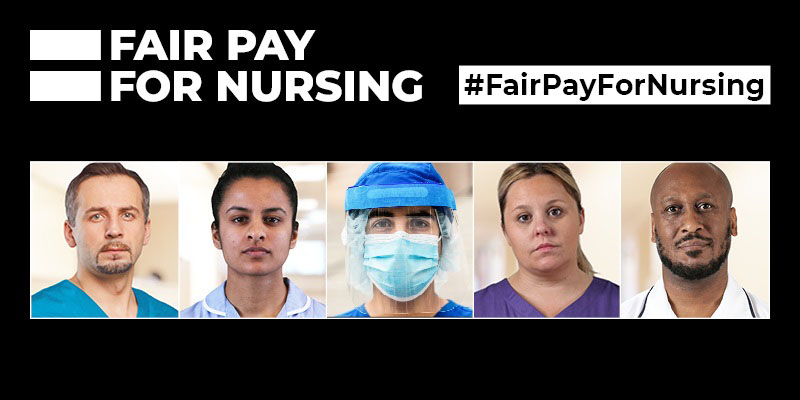 Relationship between fair pay and safe staffing at the centre of RCN Wales' PRB evidence to inform the next round of pay deliberations
RCN Wales has given written evidence to the NHS Pay Review Body (PRB) stressing the need for a substantial pay rise for our members.
The PRB is responsible for advising the governments on pay for NHS staff and takes evidence from trade unions, employers, and governments to inform its recommendations.
We have urged a recommendation not only matching the rate of inflation, but 5% above, an essential down-payment to restore lost earnings caused by successive years of below inflation pay awards for nursing staff.
As we have emphasised in both our fair pay and safe staffing campaigns, there is a direct correlation between fair pay, recruitment and retention and safe staffing levels. Only by paying the workforce fairly will enough nursing staff join and stay in the profession.
We've launched a short survey about staffing levels on members' last shift to help us make the case for urgent investment in the nursing workforce. It only takes 10 minutes to complete.
Complete the survey
In our evidence, we have highlighted the need for an increased investment in nursing care in Wales that includes a substantive pay increase which will help keep nurses in the profession. As well as a pay award that goes 5% above inflation, the RCN wants to see comprehensive plans for opportunities for career progression.
Helen Whyley, Director, RCN Wales, said:
"The nursing workforce in Wales is undervalued, under-pressure and getting burnt out. Our PRB evidence reinforces the fact that the nursing workforce is suffering from severe staff shortages and low morale. In addition, COVID-19 has had a major impact on working conditions. The RCN is asking the PRB to recommend a pay award which recognises the hard work of the profession as well as making it an attractive career option."
RCN General Secretary & Chief Executive Pat Cullen said: "If the government doesn't listen to us, it will be to the detriment of patients when more and more nursing staff decide to leave the profession.
"With three months until they're expected to make an announcement, they must listen to people who work in our health and care services.
"When a nurse or health care support worker feels no alternative but to leave, it becomes ever more challenging to provide highly effective care and treatment. They deserve salaries fitting of a safety critical profession.
"By summer, ministers must come back with a pay award that turns the tide on the years of unfilled nursing jobs and experienced professionals struggling to make ends meet."
Read our full submission to the NHS PRB
.