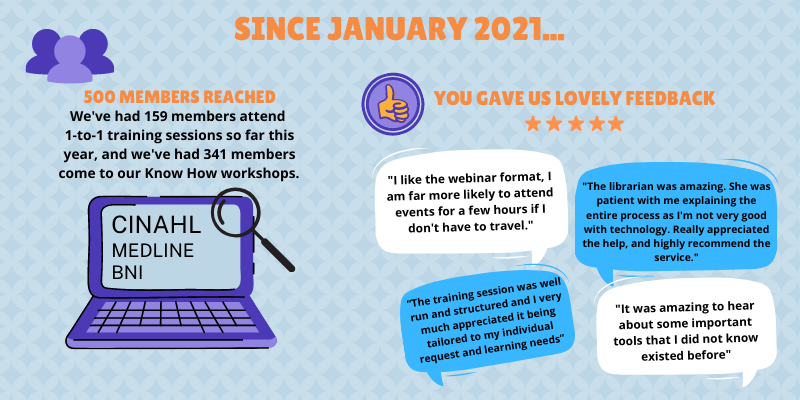 Whilst many day-to-day activities have reverted to pre-pandemic ways, we want to reassure members that our support will still be available online. We offer 1-to-1 training sessions on how to use databases and search for journal articles, and we have also started hosting Know How workshops on getting the most out of each database, evaluating healthcare information and even referencing management tools, all of these events happening online.
Removing the need to travel to one of our four libraries has enabled members from across the UK to access a 1-to-1 session or to attend a workshop and save time. In fact, we've met virtually with more members than ever before.
Between January and September this year we hosted over 150 1-to-1 training sessions for members. This year we also launched our Know How series of workshop events, weekly sessions that focus on different aspects of studying and research. We've had 339 attendees at our Know How sessions, and we'll be continuing them in the New Year.
We've been collecting feedback from the sessions to help us improve, and are pleased to say that the events have been a hit. Members have fed back that we're patient, the sessions and workshops are excellent and that they're invaluable.
You can book your own online 1-to-1, register for a Know How workshop through
this page
.
There's also lots of self-service support available on the page through video tutorials, and if you're putting a literature search together, we recommend our literature search tool to give you step-by-step help.
If you're studying or researching and need help, you can always contact us. Find our details
here
.