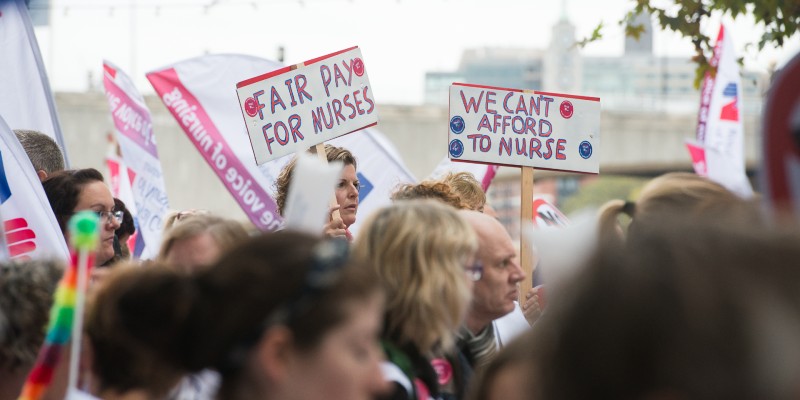 RCN members in Northern Ireland have voted in our consultative ballot on the 3% pay award for HSC staff on Agenda for Change terms and conditions. The ballot closed on Thursday 10 February.

Of those eligible to take part in the consultation, 51.75% turned out to vote with 92.2% of those who voted saying they think the pay award is unacceptable, and 7.8% saying they think it is acceptable.

Your elected representatives on the RCN Northern Ireland Board will now carefully consider the results and decide on next steps. Members will be the first to know when further decisions are made.

Fiona Devlin, Chair of the RCN Northern Ireland Board said: "We would like to thank each and every member who took part in this important consultation on pay and made their voice heard.

"We are overwhelmed with the outstanding turnout for this ballot which reflects the strength of feeling in Northern Ireland about pay. Nursing staff deserve to be paid fairly and equitably for the safety-critical work that they do – and our members have made it clear that a 3% pay award is simply not good enough."

Director of the RCN in Northern Ireland, Rita Devlin, added: "Your participation in this ballot has been critical to ensuring that our decision-making is truly member-led and gives us a clear mandate to act on your behalf.

"Unsafe staffing levels have an adverse impact on patient care and paying nursing staff fairly is a key factor in retaining the experienced staff we have as well as attracting others into the profession. Our members have delivered a clear verdict on this pay award which sends a very clear message to our politicians that nursing staff deserve to be paid fairly. With thousands of vacancies in the HSC, and many more in the independent sector, pay will continue to be an issue for the foreseeable future.

"We have written to the Health Minister, members of the Northern Ireland Assembly Committee for Health and the leaders of all of the main political parties in Northern Ireland to share these important ballot results. We cannot afford to take our eyes off the need to transform and develop a health service that is fit to serve the people of Northern Ireland. A fairly paid workforce is crucial to ensuring this happens."

The consultation for RCN members in Northern Ireland was carried out online, including final verification of results, by the independent scrutineer Civica Election Services.