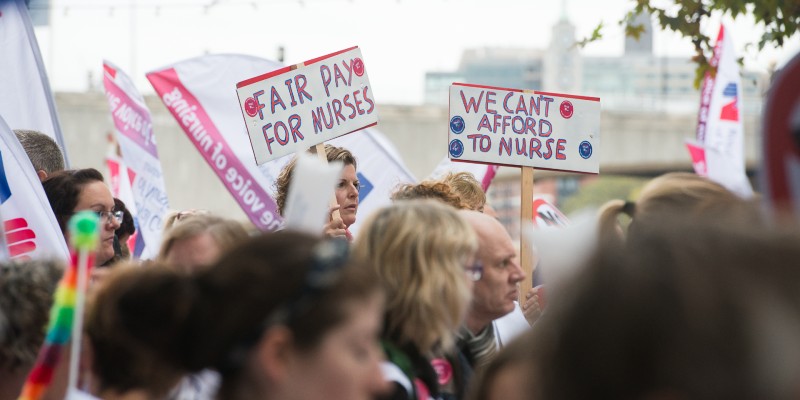 Members working for NHS Scotland on Agenda for Change terms and conditions are being invited to take part in the ballot.
They're voting on what industrial action they'd be willing to take in support of the ongoing pay trade dispute with the Scottish government and NHS employers.
Civica, the independent scrutineer that organised the
consultative ballot earlier this year
, is organising the ballot on behalf of the RCN.
Civica will send an email to eligible members with further details and instructions of how to vote. Regular reminder emails will also be sent by Civica until the indicative ballot closes at 12 noon on 8 November.
The result of the indicative ballot will not formally authorise industrial action. It will be used to inform the next steps RCN members might take. If it is clear that enough members would take some form of industrial action, then a further ballot may be organised to take this forward.
Commenting on the launch of the ballot, Julie Lamberth, Chair of RCN Scotland Board, emphasised just how important it is for members to cast their vote.
"Whatever your view on industrial action, we need members to have their say. The RCN Scotland Board need to understand the strength of feeling from members regarding your pay and the impact this has on retention, recruitment and, ultimately, safe staffing levels.
"I would urge all eligible RCN members to seek out the available information on what taking industrial action means and what the implications of doing so might be. We need each member to make up their own mind and have their say in the ballot.
"It's a last resort and extremely difficult for nursing staff even to consider industrial action. It's now up to RCN members to decide what the next steps will be."
The RCN lodged a trade dispute with the Scottish government and NHS employers in June
after the Scottish government decided to implement a single-year NHS pay deal for 2021-22 for Agenda for Change staff,
without further discussing RCN members' overwhelming rejection of the pay award
.
The Scottish government did improve the offer to staff on higher pay bands after pressure from the RCN, but while that was welcome it's not enough.
Graham Revie, Chair of the RCN Trade Union Committee, said: "Our members were very clear in telling the Scottish government that the NHS pay award was completely unacceptable – it fails the test of fairness and it fails to address the current crisis by not taking action to safely staff our wards and clinics.
"With the vote open across Scotland, the power is once again in the hands of nursing staff. I urge as many members as possible to speak up and tell us whether they believe industrial action is needed to turn things around for our patients."
In Northern Ireland, a formal pay announcement is still awaited. In England, RCN members will soon be asked to vote in an indicative ballot on industrial action, and members in Wales will be announcing their next steps in due course.
All RCN members should check their membership details with the RCN to make sure their contact details are up to date. This includes workplace, employer and preferred email address and phone number.
Visit MyRCN
to update your details now.
Visit our
Fair Pay for Nursing campaign webpages
for the latest information on the indicative ballot and read our
Industrial Action Handbook
to make an informed choice when you vote.