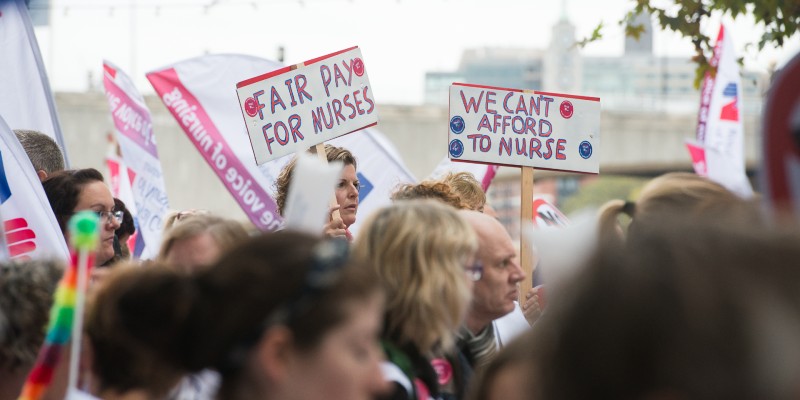 Nursing staff in Scotland working in the NHS have been offered a 5% pay increase.
The offer follows negotiations over the past few weeks between the RCN and other health trade unions and the Scottish government and NHS employers.
Negotiations ended yesterday (14 June) without agreement, but the Scottish government has made an offer of 5% - this is the final offer the government was prepared to make. The offer applies to the vast majority of staff working in the NHS in Scotland on Agenda for Change terms and conditions. Staff on Agenda for Change band 1 and point 1 of band 2 would receive slightly higher increases.
The RCN Scotland Board, RCN Trade Union Committee and RCN Council will now consider the next steps. The RCN will be updating members shortly on what the offer will mean for them and how they can have their say on the offer.
Julie Lamberth, Chair, RCN Scotland Board, said: "This offer falls far short of our expectations of a fair pay award of RPI inflation plus 5%. Our members demonstrated their worth many times over during the pandemic. They have put their own health and wellbeing on the line day after day, month after month. They continue to do so as we move into remobilisation and recovery. They deserve an above-inflation pay award that recognises their safety-critical role and makes up for years of pay restraint.
"Our members will have the final say on whether or not this pay offer makes the grade, so I'd once again urge members to take five minutes to check their contact details are up to date."
The UK government is expected to announce what pay rise NHS staff in England will be awarded for 2022/23 soon.
The decision will have an impact on what funds are available for an NHS pay rise in other UK countries and an announcement by the Welsh government is expected to follow.
The situation in Northern Ireland is complex as a government hasn't been formed following elections in May. We're demanding a pay rise of 5% above inflation for NHS staff across the UK.