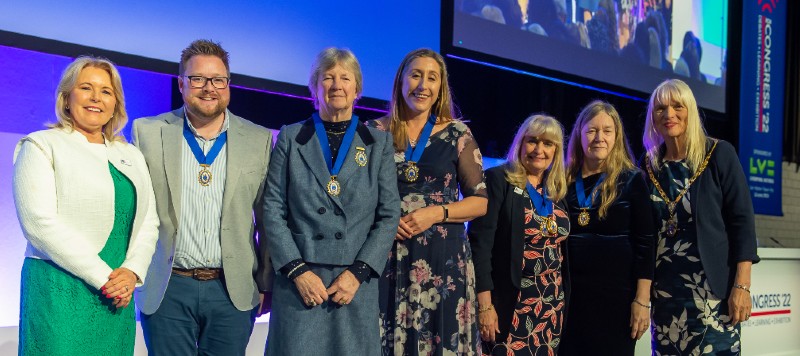 Vanessa Martin, a retired nurse from Dumfries and Galloway, received the Award of Merit, the highest honour bestowed to members for service to the RCN.
Martin Macgregor, an NHS 24 employee, was awarded RCN Safety Rep of the Year in recognition of his outstanding support for colleagues though the pandemic.
Vanessa retired to Galloway after a prestigious nursing career in cleft services. During her time, beginning as a clinical nurse specialist, she established the first education programme for nursing children with clefts and received awards for her work in supporting the families of children with cleft lip and palate.
In retirement, Vanessa has ensured her passion for nursing is shared through her work with the Dumfries and Galloway branch of the RCN where she has been secretary for five years.
Commenting on receiving her award, Vanessa spoke of how honoured she felt. "It's been a privilege to work with and support nursing colleagues in the Dumfries and Galloway branch to encourage them to engage with the College and speak up for our profession," Vanessa said. "We are a team and I have received a great deal of support myself from nursing colleagues and the RCN."
Martin has been an active Safety Rep and Steward with the Royal College of Nursing since 1992. He has been recognised for his extensive knowledge of health and safety and his passion for using this to benefit members and their patients.
On receiving his award Martin said: "I've done my best to support colleagues as we worked through the past two years, in the face of ever-changing guidance and the need to deliver services while keeping staff as safe as possible."
Also recognised in the awards was Gemma Mowbray, a second-year adult nursing student at Edinburgh's Napier University. She was commended for her work as an RCN student ambassador supporting fellow nursing students and encouraging engagement with the College.
Vanessa Martin is pictured (above, third from left) with (from l-r): Pat Cullen, General Secretary and Chief Executive, RCN; Andrew Doherty, RCN Award of Merit Winner 2022; Kerryn McGowran, RCN Award of Merit Winner 2022; Carol Popplestone, RCN Award of Merit Winner 2022; Jane-Elizabth Tooke, RCN Award of Merit Winner 2022; Dr Denise Chaffer, President, RCN.