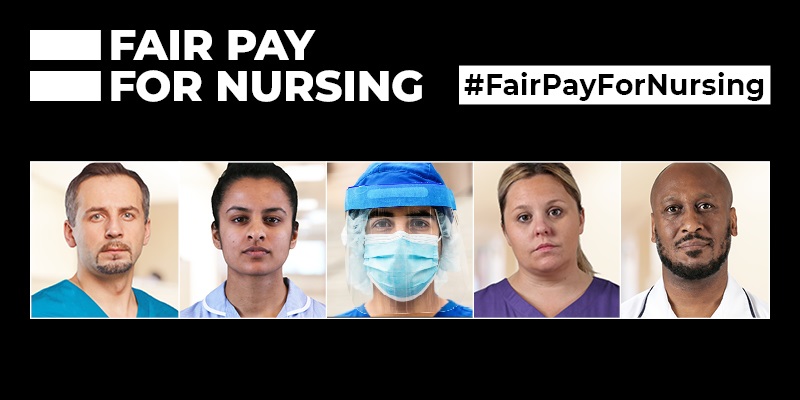 26.9% of eligible members took part in the vote, and 68.5% of those who took part voted to reject the offer.

At a meeting of the Scottish Terms and Conditions Committee (STAC) today (12 May), each of the health trade unions stated their position. The trade unions were not unanimous in their views on accepting or rejecting the offer, and each organisations' position has been passed on to Scottish government for their response.

Separately, Scottish government has been advised of RCN members' rejection of the offer and we await a response from Scottish government.

RCN Scotland will continue its campaign for Fair Pay for Nursing.

Commenting on the result of the ballot, Julie Lamberth, Chair, RCN Scotland Board, said:

"We know that this past year has exacerbated long-standing issues and has taken its toll on our members – they are exhausted and worrying numbers are considering leaving the profession.

"The pandemic has given the public a better understanding of the safety critical role of nursing and our profession's contribution to the NHS in Scotland.

"The Scottish Government must do more to recognise this, to demonstrate that they value our nursing workforce and to address the years of underinvestment to ensure Scotland can retain and recruit the nursing workforce it needs. We are calling on the Scottish government to agree to further negotiations and to deliver fair pay for nursing"

RCN Acting General Secretary and Chief Executive Pat Cullen said: "This result shows the strength of feeling across the nursing profession. I pay heartfelt thanks to all our members in Scotland - they have sent the First Minister a message and she will need to listen.

"It also shows Boris Johnson cannot expect plain sailing ahead. This summer, when his NHS pay announcement comes, he can expect nursing staff in the rest of the UK to make a forceful stand for a significant pay increase. Nursing staff are the biggest part of the health and care workforce and he must think carefully before taking further steps down this road.

"Our members have made clear why they, their colleagues and their patients need to see a pay rise of 12.5 per cent. With tens of thousands of vacancies jeopardising safe care, a significant pay rise will value their skills and keep more people in the profession as a key part of the pandemic recovery.

"The UK Treasury can afford it. It is patients who cannot afford for politicians not to do it."

Graham Revie, Chair of the RCN Trade Union Committee, said: "With this result, our members across Scotland are turning up the volume in their campaign for fair pay. It will keep getting louder and louder in Scotland and across the UK for as long they are denied fair pay.

"Whether it's in Scotland or elsewhere in the UK, the pay proposals coming out of governments are failing to recognise the skills, the responsibility and the real difference nursing staff make.

"We are key to safely staffed services and, when there are so many shortages, governments need to be doing everything to get people into nursing.

"Today's announcement confirms that politicians across the UK must not underestimate the determination of nursing staff to secure what's fair. The RCN will take its lead from our members who have had their pay cut in real terms by consecutive governments over the last 10 years."

The RCN will keep members up to date on what happens next once a response has been received from Scottish government.