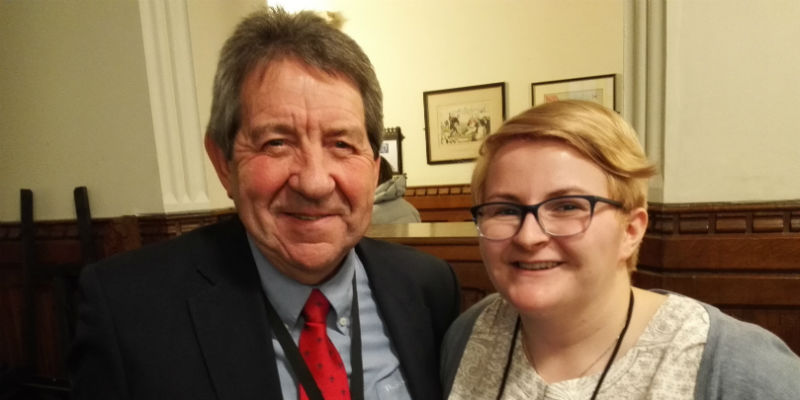 Julie Terry from the University of West England (UWE) said: "It was a really interesting day. I met both my home and my university MP. Eleanor Smith MP who had called the debate on nursing higher education funding addressed us beforehand. Her talk was really inspiring. During our nursing journey, you can get disheartened, and it was great to have someone who spoke not only to us but for us. She's been a nurse all her life until quite recently so it's great to have her in parliament advocating for us."
"It was interesting to see how everything worked. What I found uplifting was how receptive the MPs were to listen to us and take on board what we were saying – they took so many of the stories we'd told them into the debate. It was also good to put faces to the names and talk to them. I'd definitely recommend everyone engaging with their MPs and encouraging them to advocate on our behalf at debates like this in the future."
Melissa Wigmore of Bournemouth University spoke to her MP Christopher Chope about her parking fees on placement and said he was 'astonished' at how much she was paying and promised to take action. She said: "The debate in Parliament was filled with passion and ambition to change the future of nursing for the best. Eleanor Smith's speech was incredible - you could feel the passion within it."

UWE student Sophie Wardrop met her local MP David Drew, MP for Stroud. "My favourite part of the day was actually attending the debate, being in the atmosphere of the room," she said. "Also knowing that my MP used quite a lot of my points in the debate was really rewarding," she continued. "He wasn't aware students had to pay for parking, which is a massive issue, but he is now."

The South West mirrors the national picture with student applications and places dwindling as universities fail to attract the numbers needed to fulfil future workforce requirements. Mental health and learning disability nursing courses have been hardest hit as these courses traditionally appeal to mature applicants. The region's one remaining learning disability nursing course was in danger of not running this year due to lack of applicants.
Yesterday our students told their MPs why nursing study deserves funding. Nursing students spend 50 per cent of their time working in the NHS on shift providing patient care; they do not have the traditional long university holidays so it is near impossible to hold down additional jobs to afford living expenses. Add to this the cost of getting to placements, often far from their accommodation and it is easy to see why many students see nursing as financially unviable.
Susan Masters, Regional Director, RCN South West said: "The removal of the bursary has failed in its objective to open the market and increase the number of nursing students. In fact student nurse numbers are falling and other pathways into nursing are not filling the gap. Without a credible workforce strategy including funding for nursing students we will continue to experience a nursing workforce crisis and patients will continue to be adversely impacted."