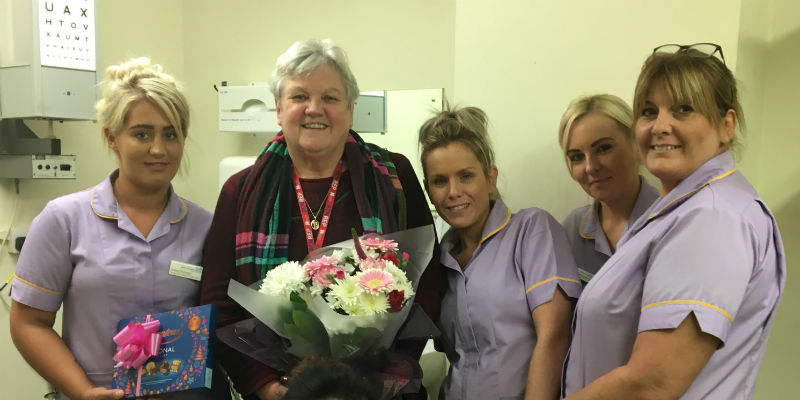 As services change and develop, sometimes the roles and responsibilities fulfilled by nursing staff are modified outside of the agreed pay band.
Bradford steward Anne Kennedy has been successful in helping a group of members rewrite their job descriptions and move onto higher bands following system changes.

We asked her about the process leading up to this success.
What made you think the nurses / Health Practitioners (HPs) concerned were working on the wrong band?
"ENT and eye nurses have been working closely with clinical colleagues to meet the increasing needs of the service in Bradford.

"This has meant nurses expanding their roles and developing their skills in advanced practice. HP's have also developed skills to perform procedures in the department with specific training programmes involving visual testing and decision making.

"Ultimately, more patients have been able to access the service and receive treatment safely and effectively.

"I was asked by RCN members in the department, both registered and Health Practitioners, to help them to revise their job descriptions. The members had the support of their medical colleagues which was also very helpful."



Was there much resistance from the employer to this change?
"Bradford Teaching Hospitals NHS Foundation Trust set up a Trust wide working group to look at roles and responsibilities of Health Practitioners.

"This was in light of the review carried out by Camilla Cavendish.

"Staff side representatives, including myself on behalf of RCN members, were on this group and actively engaged. Core Job descriptions were written jointly and agreed; these are now embedded through the organisation and can be adapted to include different practices associated with specialist areas

"At the same time the Trust was reviewing the roles and responsibilities of the specialist nurses and I provided the staff side link to this work. The outcome of this work was the development of core job descriptions with the ability for each specialist area to adapt them to their particular specialist needs. The Registered nurses in the "ENT/Eye out patient department asked me to work with them to describe their own roles and responsibilities and we were able to identify that they met Band 6 factors.

"The Registered nurses and HP jobs were matched and a claim made in accordance with the Trust guidance on re-banding of jobs."



How did you get this process started and what were the challenges?
"This has been a lengthy process, over three years, however agreement was finally reached and back-pay has been negotiated.

"It has involved close working with the members and senior nurses to get the result we wanted."
To find out about how you could become a steward in the RCN and bring benefits to members please see our dedicated webpages.