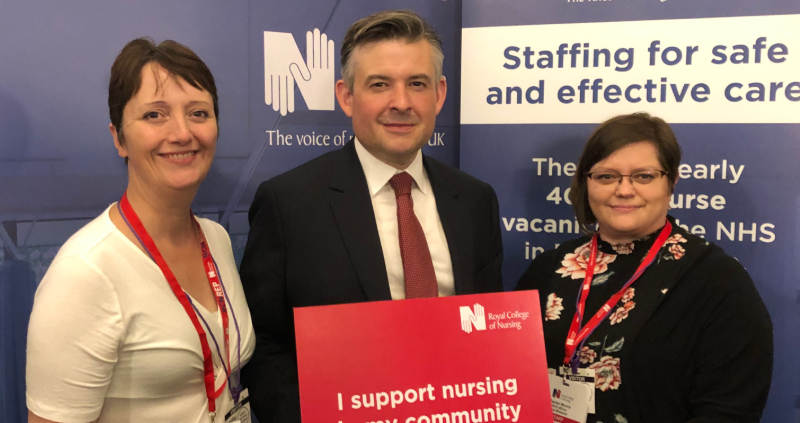 Today RCN members attended an event in Parliament to discuss their experiences of delivering care in hospitals, care homes and community settings in England. Frontline nursing staff and students stressed the need for urgent action to tackle the workforce crisis and ensure patients receive safe, effective care.

More than 100 MPs and Peers from across all political parties attended the event hosted by RCN members. They included Health Minister Stephen Hammond MP, Shadow Health and Social Care Secretary Jon Ashworth MP, Shadow Foreign Secretary Emily Thornberry MP, and Apprenticeships and Skills Minister Anne Milton MP, who is a former nurse.

As well as sharing their experiences, members asked their MPs to support the RCN's safe staffing campaign and to attend a Westminster Hall debate tomorrow.

The debate will consider the Health Secretary's legal duties for workforce planning and the supply of staff for the NHS in England.

RCN England Director Patricia Marquis said: "Health and care services are reaching a tipping point, with nurses routinely working many hours of unpaid overtime to deliver the care people need. This puts nurses under impossible strain and puts patients at risk.

"We are clear that this is because there is no explicit accountability in law to ensure that there are enough professionals – with the right skills mix, in the right place, at the right time – to provide safe and effective care to patients across England.

"Our members have a clear message for the government – change the law so that health and care services can't be starved of much-needed staff."

One in 10 registered nurse posts are unfilled in the NHS in England, leaving a shortfall of around 40,000 nurses.

Member Heather Stork, a nurse from the South West, said: "Staff are trying their utmost to provide safe quality care. I want MPs to make sure Parliament is accountable for staffing levels and for making sure patients are safe and receiving the right care."

Baroness Watkins of Tavistock, who sponsored the event, said: "My message to the incoming Prime Minister is that if we are going to meet the WHO sustainable development goals for health we cannot over-rely on overseas recruitment of nursing staff.

"We need to recruit enough home-grown staff across all health care settings and we need to make the profession attractive to new entrants while retaining those we've already got. Any new administration needs to look again at funding for nurse higher education. That means, for example, student loans for those in the public sector paid off after a sensible period of no more than five years."

Sam Turner, a student nurse from Manchester, said: "Under staffing means that you often start a shift knowing that you won't be getting the mentoring you need; you spend your time trying to keep up, or trying to help your colleagues, rather than learning and developing."

Siobhann Leviton, also a student nurse, said: "Making do isn't good enough anymore. I already know at least two students who have dropped out because they couldn't afford to carry on their course. In my placements I've had to be used as an extra pair of hands. I don't mind that but it means that at times I've lost learning opportunities because I've been helping with patients. I would hate to be in a position where I'm a qualified nurse and I'm struggling with too many patients and I cannot maintain safe care."

The RCN is also campaigning for investment of at least £1 billion a year into nursing higher education in England to attract and retain a new generation of nurses and make nursing a viable career option for people from all backgrounds.
Pictured above: RCN members Sarah Stock (left) and Rachel Morris with Jon Ashworth MP