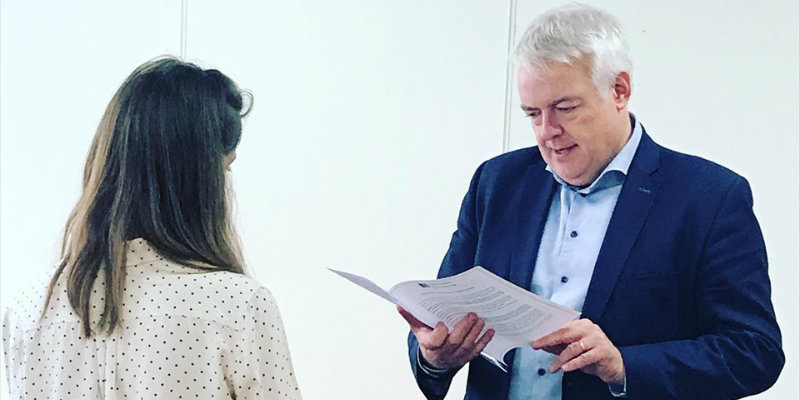 A drop-in session was held on 17 July in the Senedd to call on the Welsh government to commit to recruiting more nurses in Wales to keep the NHS functioning now and in the future. Welsh Assembly Members were given a copy of the RCN Briefing: A Workforce Strategy for Wales, which was developed in partnership with nursing staff across Wales.

The document gives evidence that the nursing shortage in Wales can be seen in the NHS nursing vacancy rate, the dramatically increasing rate of spend on agency nursing and the extreme shortage of registered nurses in the independent sector.

It highlights the need for the Welsh government to implement a sustainable strategy for recruiting and retaining nursing staff and to introduce legislation across all health care settings to ensure staffing levels and safe patient care.

Helen Whyley, Director of RCN Wales, said: "Every week nurses in Wales give the NHS extra hours to the value of 976 full-time nurses. This is unacceptable. In addition, NHS Wales has spent £63.8m on agency nursing in 2018-19. This is the equivalent salary spend of 2,635 newly qualified nurses. The Welsh government must take action to reduce this spend.
"It is essential that nurses and health care support workers are consistently supported through education, training, recruitment and continuing professional development to be able to meet changing service needs and new models of care. The Welsh government needs to consider our briefing and its recommendations to produce a positive direction for patient care."
RCN Wales has already successfully campaigned for safe staffing legislation and, in 2016, secured the first law in Europe for safe and effective nurse staffing. The Nurse Staffing Levels (Wales) Act means that health boards now have a legal duty to regard the importance of ensuring appropriate levels of nurse staffing in adult acute medical and surgical care settings.
However, RCN Wales is calling for an extension of this act to apply to all settings, including children's, mental health and community nursing.
The Welsh government has commissioned Health Education and Improvement Wales and Social Care Wales to publish a workforce strategy for health and social care. This is due to be published in November 2019.