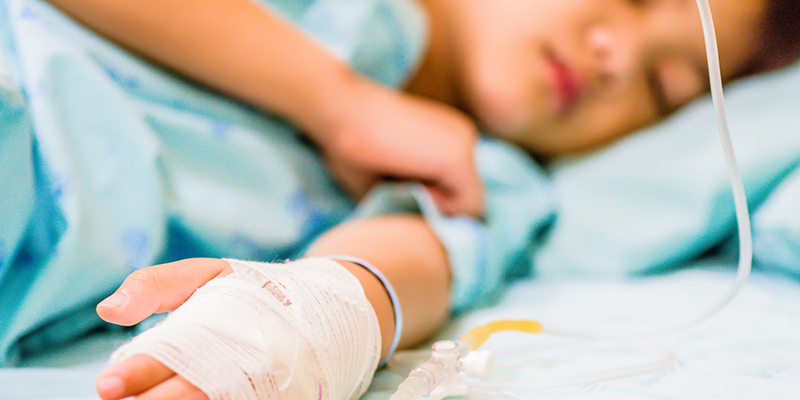 Health care staff and the public must be educated on the signs of sepsis to save tens of thousands of lives lost each year, nursing staff will say today.
Between 1,000 and 4,000 under-fives die of sepsis every year in the UK, according to the UK Sepsis Trust. Yet there is not currently a universal, nationally validated system to identify deterioration in child patients.
Dame Donna Kinnair, RCN Chief Executive & General Secretary, said: "Sepsis in a child is so sudden. You can see a child who comes in looking like they have a common cold. You might send that child home. In a matter of an hour you see the child develop the symptoms of sepsis that are very clearly defined.

"By the time they have developed the stark symptoms of sepsis there's no way you can come back from that. It's really important that we get a way of ensuring that we diagnose
this accurately."
Nurses will call for a nationwide rollout of a new system to enable signs of deterioration in any patient's condition to be identified and acted upon quickly. Elements of the scheme – which monitors children's vital signs, including heart rate, respiratory rate, blood pressure, oxygen saturation and temperature – have been tested at specialist institutions including Great Ormond Street Hospital.
A uniform Paediatric Early Warning Sign Score (PEWS) system for children in England would mirror the National Early Warning Score for adults being rolled out since last year.
Fiona Smith, professional lead for children and young people at the RCN said: "Nurses have been calling for a national standardised PEWS system for children for over 10 years now. Progress on delivering this has been too slow."
Nursing staff at the Royal College of Nursing's annual Congress in Liverpool will hear from sepsis survivor Tom Ray. Delayed diagnosis and treatment of sepsis left Tom as a quadruple amputee. He will tell delegates that nurses must be supported to prevent this happening in future.
Tom, his wife and carer Nic and their clinician Pippa Bagnall, will call for mandatory training for all members of the nursing and midwifery professions.
Speaking ahead of the speech and debate, Tom said: "Poor outcomes for patients are equally dramatic for staff, friends and family and they will continue to happen if nursing staff are over-stretched, under-trained and unsupported. My own experience has placed huge strain on myself, my family and my carers – and it should never have happened.
"Damage and even death from sepsis will continue until there is a commitment to educate all staff to give every patient the care and attention that is needed to spot and treat sepsis as fast as possible."