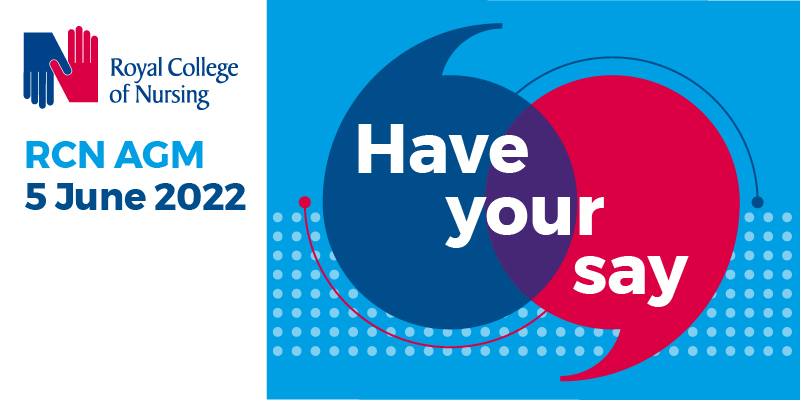 The agenda has been announced for this year's RCN Annual General Meeting (AGM) being held in Glasgow on 5 June.
Members can attend the AGM in person or online. To book your place, register to attend using the Congress booking form to select in-person or online attendance at the AGM on Sunday afternoon.
At the meeting, members will receive the annual report and financial statements, the Chair of RCN Council will report on progress made on key priorities over the past year and the Honorary Treasurer will talk members through the finances of the RCN for 2021. There's an opportunity for members to discuss matters of a professional nature too.
Members will also receive updates on two important reviews. Bruce Carr QC will attend the AGM to discuss progress on his report on the culture of the organisation and there will be an update on the review of the governance of the RCN which members voted for at a previous Extraordinary General Meeting.
Members will have the chance to ask questions during the meeting either in person or via the Q&A function on our online meeting platform. Questions are encouraged in advance via governance.support@rcn.org.uk.
RCN President Dr Denise Chaffer said: "This is our first in-person AGM since 2019 and I do hope you are able to join us. The AGM is your opportunity to hear about the RCN and ask questions, including our financial standing and what we have achieved over the last 12 months. It's a great opportunity to have your say and make your voice heard."
The AGM will be held at the Scottish Event Campus, Glasgow G3 8YW on Sunday 5 June 2022 between 1.30 and 4pm.