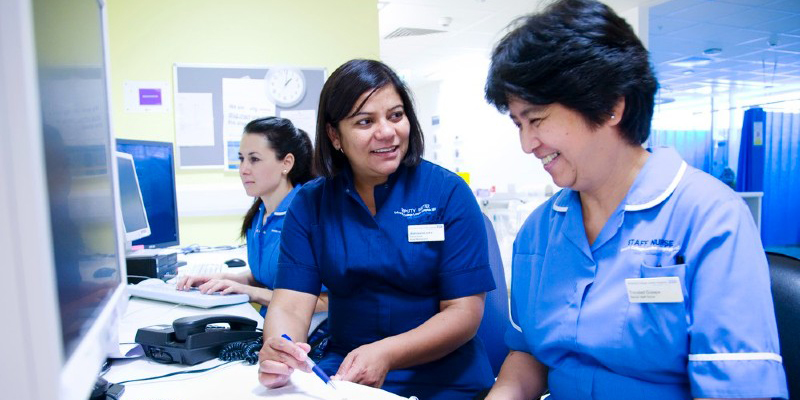 Nursing staff are today (15 March) marking the first National Cancer Clinical Nurse Specialist Day, a celebration of the expert role and its contribution to cancer care.
The day was founded by Greater Manchester Cancer Alliance, with support from the RCN and others, to raise the profile of cancer clinical nurse specialists at a time when patients and the cancer workforce need them more than ever.
On average, someone is diagnosed with cancer every 90 seconds in England and they seek the expert support of this profession. Cancer nursing is about much more than palliative care, with a greater range of complex treatments available to patients than ever before.
The UK government has pledged to expand the cancer workforce, but recruitment has not kept pace with the increasing demand for cancer services. It is estimated that 30% of the specialist cancer nurse workforce will be retiring within the next 10 years, while the number of patients requiring their care increases. To bridge the gap, the number of cancer clinical nurse specialists will have to increase by 100% in the next eight years.
Cancer clinical nurse specialists provide skilled, personalised care, improving the experience of both cancer patients and the multidisciplinary colleagues they work with. Today, nursing staff will be sharing videos showcasing the diversity of their role and the different areas of cancer care that they contribute to.
The RCN has also published an updated version of its Career and Education Framework for Cancer Nursing, created by the experts in the RCN Cancer and Breast Care Forum. This resource supports nursing staff interested in cancer care careers.
RCN Chair of Council and Cancer Nurse Specialist, Carol Popplestone, said: "The role of the cancer nurse has evolved over time as survival rates have improved.
"A cancer diagnosis is devastating for patients and cancer nurses are there to provide the support and help they need throughout their treatment.
"Cancer nurses are the cornerstone of that care, helping patients understand their treatment options and doing clinical tasks and check-ups. Patients having treatment may be seen by a number of healthcare professionals and cancer nurses provide the continuity of care they so badly need.
"As a Cancer Nurse Specialist, I hope this first-ever National Cancer Clinical Nurse Specialist awareness day will help shine a light on the rewarding career our speciality offers and encourage more people to pursue it."
Join the conversation on social media using the hashtag #NationalCancerCNSDay.