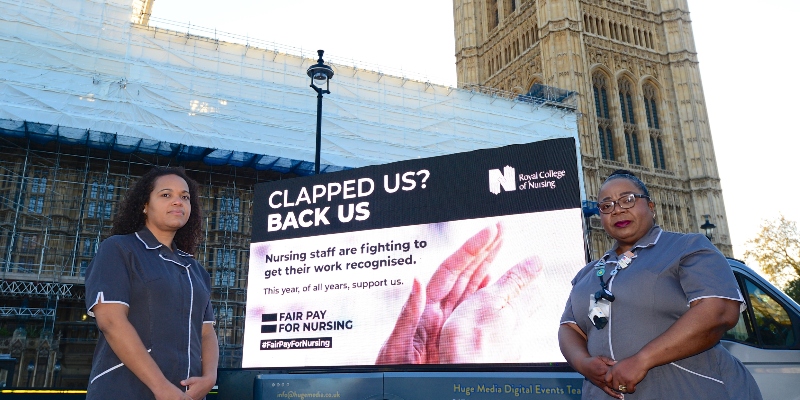 Today we're taking the fight for fair pay for nursing straight to Westminster with the launch of our new billboard calling on politicians, and everyone who clapped the NHS on their doorsteps earlier this year, to support our campaign.
Our new billboard, pictured above with RCN members Grace Milner and Kafeelat Adekunle, is displayed outside the Houses of Parliament today bearing the slogan "Clapped us? Back us."
RCN Chief Executive & General Secretary Dame Donna Kinnair will also be meeting with key political decision makers this week to reiterate the RCN's demands for a meaningful pay rise for nursing staff to recognise the value of the profession and address the workforce crisis across the UK.
The RCN is urging the government to commit to a fully funded 12.5% pay award for NHS staff in its upcoming spending review at the end of November.
Dame Donna said: "The clapping was powerful and lifted the spirits of many. But the government must grasp the nettle this year and value the work of nursing staff.
"It shouldn't have taken a pandemic and public applause to shine a light on this work, but the government has an opportunity now to end years of injustice.
"The job is tough and complex and yet we are worse off now than years ago. If you clapped us, then now is the time to show you still back us."
Dame Donna also appeared on ITV's Good Morning Britain earlier today calling on the public to show their support.
There's still time to ask your MP to support fair pay for nursing ahead of the government's upcoming spending review.
You can join the 10,000 people who've already taken action by using the template on our website to email your MP today – it only takes a couple of minutes to complete.
Email your MP to demand Fair Pay for Nursing now.