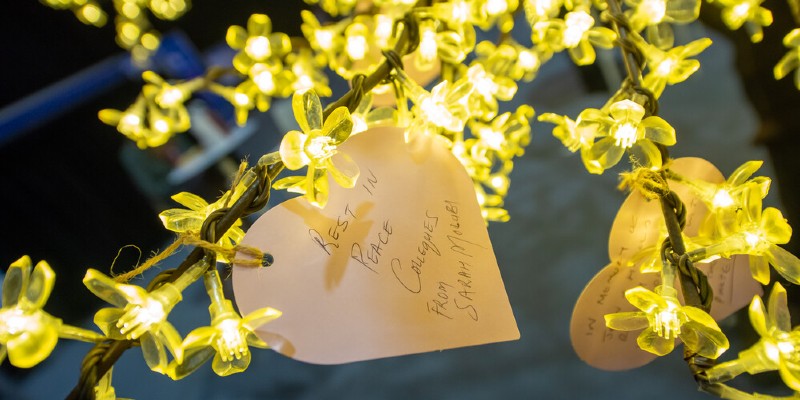 Image above: RCN COVID-19 memory tree
The public inquiry into the UK's handling of the COVID-19 pandemic has been launched after Prime Minister Boris Johnson accepted calls to widen the terms of reference to include the pandemic's effect on minority ethnic groups, children and mental health.
It comes after the RCN submitted its response to a public consultation on the draft terms of reference, in which we raised these important points.
The UK government's draft terms had covered 26 topics, including testing, infection control in hospitals and care homes, and personal protective equipment.
However, we found there were key issues for nursing staff missing, particularly the unequal impact of COVID-19 and recognition of the disproportionately high number of ethnic minority nursing staff who have died during the pandemic.
Responding to the inquiry's launch, RCN General Secretary & Chief Executive Pat Cullen said: "The COVID-19 inquiry can leave no stone unturned. Too many incredible nursing staff had their lives cut brutally short and many others are living with the impact of the virus still today.
"In the height of the pandemic, the guidance was confusing. The testing was inadequate. The PPE was missing or poor. The consequences were fatal.
"Nursing staff were let down by ministers throughout the pandemic. The RCN will seek to represent justice to everybody's experience these last two years."
The RCN has appointed Fenella Morris QC to advocate for nursing staff throughout the inquiry and is applying for "core participant" status to ensure the voice of nursing is heard throughout.
In our response to the public consultation on the draft terms of reference, we raised 34 important points that must be addressed as part of the inquiry.
These include preparedness for the pandemic, the management of COVID-19 in different care settings, failures in workforce planning and the long-term effects on nursing staff.
Pat added: "The COVID-19 inquiry must not just be about what ministers failed to do in the years before the pandemic, those early days or even the big moments of the last two years. It must look ahead to ensure nursing staff are never again left so unprotected."