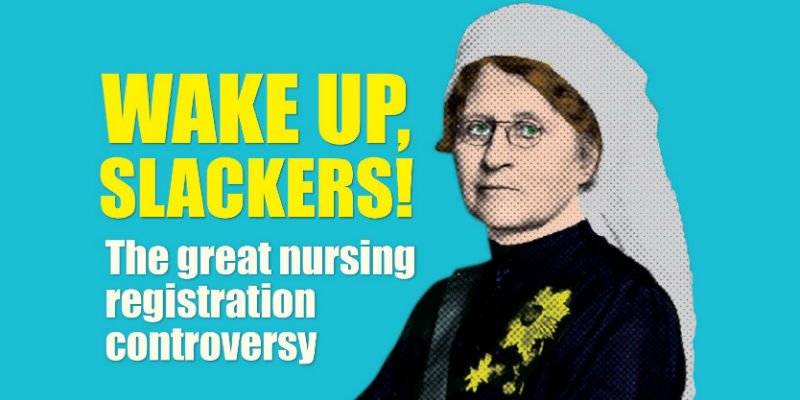 The exhibition, called Wake up Slackers! The Great Nursing Registration Controversy, launches on 17 October at the RCN Library and Heritage Centre in London, 100 years on from the Nurses Registration Act of 1919.
The exhibition explores the heated arguments that took place during the decades-long campaign to secure nursing registration, exploring the strong anti-registration views of some organisations and calls from the College to get its members politically involved.
"It is incredible today to think that 100 years ago there were arguments about whether or not nurses should be registered," said Frances Reed, RCN Events and Exhibitions Co-ordinator. "Today it would be unthinkable for somebody with such responsibility for the welfare of patients not to be registered, and yet there were strident clashes over it."
The exhibit contains artefacts from the RCN archive, including invites to member meetings to discuss the College's proposals for state registration, House of Commons Parliamentary debates from 1919, and draft legislation. It charts the first registration of men, overseas nurses and one of the first nurses to be struck off.
Opening during Black History Month, the exhibition also showcases the story of Eva Lowe, one of the first known black nurses on the register. Research conducted by author Stephen Bourne reveals how, despite being well qualified, she was rejected many times before finding employment. Lowe received vague and unsatisfactory excuses for her rejection, some based on false concern for her welfare.
"There is little known about black nurses whose names are on the very early 1920s registers. It is essential we recognise that their contribution to health care in the UK existed well before Windrush." Frances said.
"It is fascinating to look back through this history of nursing to see how the arguments on both sides developed and how many of the same discussions continue today."

See the exhibition at RCN HQ until 20 March.