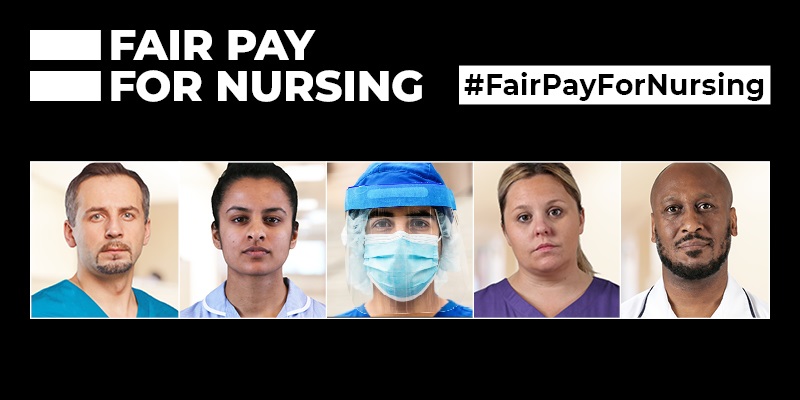 The RCN's Acting General Secretary & Chief Executive Pat Cullen has made a public appeal to new Health Secretary Sajid David, urging him to value the safety critical role of nursing staff by giving them a decent pay rise this summer.
She appeared on BBC Breakfast this morning as we await news of what the pay award for NHS staff in England, Northern Ireland and Wales will be.
Back in March, the government suggested NHS staff would get just a 1% pay rise, despite the gruelling year they've spent caring for patients with COVID-19.
We're campaigning for a 12.5% pay increase for all nursing staff covered by Agenda for Change terms, as part of a one-year deal that applies equally to all bands.
Speaking to journalists, Pat said: "A report from the NHS Pay Review Body may well be in the health secretary's in-tray this morning. What we're saying to him is, please don't insult nursing staff by awarding them a 1% pay rise. That will do nothing to hold on to the fantastic nurses we've got in our system, not one of whom we can afford to lose."
Pat also called for a national recovery plan for the health service, which includes tackling nursing vacancies, and stressed that the waiting list backlog will remain unless the nursing workforce crisis is addressed. There are approximately 50,000 unfilled nurse vacancies across the UK currently.
"Sajid Javid must hit the ground running," she stressed in response to his appointment. "With the unrelenting pressure on nursing staff, their role in protecting the nation during the pandemic and delivering the vaccination programme, we expect to meet with urgency.
"Javid's immediate priority must be tackling the shortage of nursing staff and paying them fairly for their highly skilled and safety critical work."