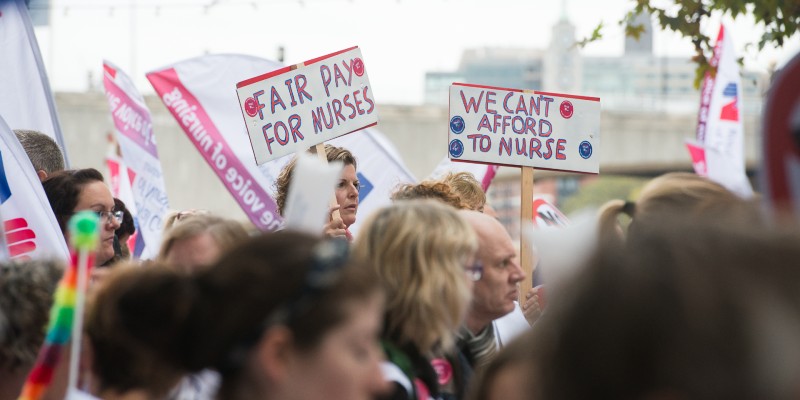 RCN members working for the NHS in England on Agenda for Change contracts are to be asked whether they'd be willing to take industrial action in an indicative ballot launching soon.
Elected members on the RCN Trade Union Committee have made this decision to help determine next steps in our ongoing fight for fair pay.
It's after 92% of members working for the NHS in England who voted in our recent consultative ballot said the 3% pay award for 2021-22 is unacceptable.

These results have been carefully considered by our elected Trade Union Committee, factoring in the views of members on the RCN's English regional boards, and they've decided the most appropriate course of action is to test members' appetite for industrial action.

Specifically, members will be asked if they are willing to take action short of a strike – such as working contracted hours only – or strike action, which is the complete withdrawal of labour.

The RCN is clear that industrial action is always a last resort, but we're also clear that the current staffing crisis in the NHS is causing unacceptable risk to patients and staff.

Chair of RCN Council Carol Popplestone said: "Politicians might be hoping our members would go quiet about NHS pay but with this announcement they are turning up the volume yet further.

"We are a patient safety critical profession but currently forced to operate with tens of thousands of missing nurses – patient care is suffering.

"Only by paying nursing staff fairly will you stop experienced staff from leaving and encourage the next generation to join a fantastic career."

The vote will open in the coming weeks with the launch date and more details available soon.

The result of the indicative ballot will not formally authorise industrial action but will be used to inform what members do next in our campaign for fair pay. If it is clear that enough members would take some form of industrial action, then a further ballot may be organised to take this forward.

Chair of the RCN Trade Union Committee Graham Revie said: "Today's decision was taken by members, for members. Nursing staff from across the country are leading this campaign from the front and the RCN Trade Union Committee has listened to the views of members who voted.

"Our members were very clear in telling the Prime Minster that his NHS pay deal was completely unacceptable – it fails the test of fairness and it fails to address the current crisis by not taking action to safely staff our wards and clinics."

It's essential members check that their contact and employer details are correct so the ballot reaches those eligible to vote.

You can find out more about how industrial action is initiated, organised and safely carried out by reading our Industrial Action Handbook.

Across the UK, our fight for fair pay continues and won't stop until our safety critical profession is respected and protected.

In Scotland, members working for the NHS will also be asked what industrial action they'd be willing to take over pay in an indicative ballot launching on 12 October.

An announcement on next steps for our pay campaign in Wales will be made in the coming weeks after 94% of members working for the NHS who voted in our recent consultative ballot said their 3% pay award is unacceptable.

In Northern Ireland, the health minister has said he wants to award HSC staff a 3% pay rise, but no formal announcement has yet been made.

Our Fair Pay for Nursing campaign aims to secure a fully-funded 12.5% pay increase for all nursing staff covered by Agenda for Change terms. How governments in the UK respond to this demand will indicate what they believe nursing staff across the independent sector deserve too.

It's time to pay nursing staff fairly. Join our fight.