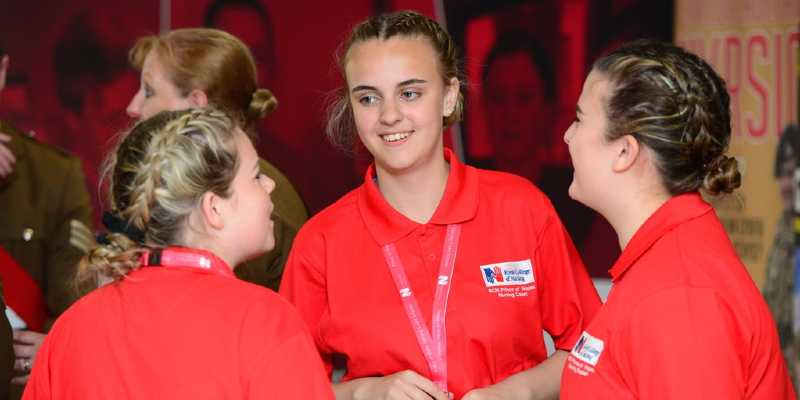 The cadets, who are aged 17 and 18, began their placements this week at Sandwell and West Birmingham (SWB) NHS Trust.
The RCN Prince Of Wales Nursing Cadet Scheme offers a blended and transformational learning opportunity for cadets, helping them to improve their confidence, skills and knowledge and helps raise awareness of health care careers, including nursing.
Nursing cadet Sukhpal Singh said: "The nursing cadet scheme has been so good. I've learned so much and gained an insight that health care roles are much more than just treating patients.
"The placement element is so important because you get to see what you've learned in practice, and actually see it in a real-life scenario."
The scheme was created when His Royal Highness the Prince of Wales, as an ambassador of the NHS, approached the RCN in 2017 with a proposal to work with the nursing profession to widen the opportunities for young people, who would not otherwise consider following or be eligible to follow a course in nursing or other health and social care related careers.
Mel Roberts, Interim Chief Nurse at SWB NHS Trust, said that supporting the scheme is of paramount importance to the trust. "As we open what promises to be Europe's busiest emergency hospital – the Midland Metropolitan University Hospital – next year, we are keen to attract the very best talent in new entrants to the health profession," she added.
Lindsay Meeks, Regional Director, RCN West Midlands, said: "These young people are our future workforce and it's fantastic to see the partnership between Sandwell and West Birmingham Hospitals NHS Trust and Holly Lodge Combined Cadet Force working so well for the nursing cadets."
Sandy Harding, Head of the RCN Prince of Wales Nursing Cadet Scheme, added: "Two years on and we are delighted to have launched the scheme beyond Wales, into England, and have our first cadets reach placement stage here in the West Midlands."
Above photo taken at the RCN Prince of Wales Nursing Cadet Scheme launch in Wales