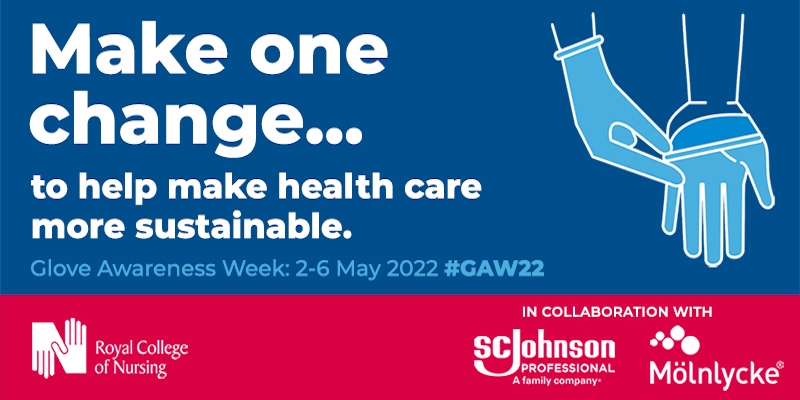 This Glove Awareness Week (2-6 May), we're asking you to "make one change" to safely reduce your glove use and make health care more sustainable. Could you make one change to your daily routine at work to reduce unnecessary glove use?
According to NHS England data, a staggering 12.7 billon gloves were sent for use in the NHS and social care in England alone between 25 February 2020 to 31 March 2022. This compares to 1.7 billion in 2019.
The plastic in gloves is derived from crude oil, the production of which contributes to climate change and environmental pollution. They are also often produced outside of the UK and travel thousands of miles to reach health care staff.
As part of Glove Awareness Week, on Thursday 5 May, we'll be marking World Hand Hygiene Day and detailing how reducing glove use can help prevent infection and good hand hygiene can improve skin health.
While gloves are essential tools for some tasks, they are not always required. For example, they should be used in contact with blood or body fluids, broken skin, and harmful drugs or chemicals. They are not, however, always needed when giving vaccinations, and are not needed when taking blood pressure or helping patients to stand, mobilise, eat or drink.
Members can pledge to make one of the following changes in their workplace:
to not use gloves to give vaccinations
to not use gloves when feeding people
to not use gloves when entering a patient's home
to not use gloves automatically when giving IV medication
to not use gloves when comforting patients.
Rose Gallagher, RCN Professional Lead for Infection Prevention and Control, said: "Nursing staff have always instinctively turned to examination gloves as a first line of protection and the pandemic saw a massive increase in their use.
"They are, however, not always necessary and their over-use can lead to long-term and sometimes permanent damage to the hands. Nursing staff can be reassured that hand hygiene is a highly effective way of protecting themselves from viruses such as COVID-19, which means we can reduce glove use safely when they are not required.
"By taking steps to make one change and reducing the use of gloves, nursing staff can also play a huge part in reducing waste and increasing sustainability in health and care services."
We are encouraging you to get involved by sharing your pledge on social media using #GAW22 and to access free materials to share in your workplace on our website. Find out more information about how you can join in this year's Glove Awareness Week.