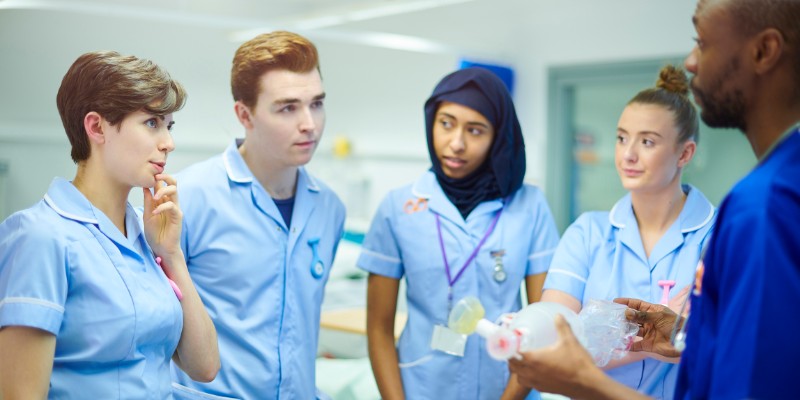 Our new report Beyond the Bursary: Workforce Supply details the long-term investment needed in nursing higher education in England to help address the shortages of nursing staff.
We want the government to demonstrate that the nursing profession is valued by providing appropriate financial support for nursing students. This includes:
reimbursing tuition fees or forgiving current debt for all nursing, midwifery, and allied health care students impacted by the removal of the bursary
abolishing self-funded tuition fees for all nursing, midwifery, and allied health care students starting in 2020/21 and beyond
introducing universal, living maintenance grants that reflect actual student need.
RCN Chief Executive & General Secretary Dame Donna Kinnair said: "The pandemic has shone a light like never before on the work of nurses. It also saw many thousands of student nurses come forward to provide their services across the NHS. Yet when they finish their training, they will be left with tens of thousands of pounds of debt which, for many, will never be paid off.
"There are simply not enough nurses being trained in this country and we can no longer rely on recruiting from overseas. Unless urgent action is taken, we could see vacancy numbers reach 100,000 by the end of the decade.
"Now is the time to grow our domestic workforce supply and properly invest in the training of new nurses to deliver safe and effective care in every acute and community setting, in both health and social care, across the country."
In 2017, the government removed the nursing bursary in England, which had supported students as they studied to become qualified nurses. Following a subsequent decline in nursing degree applicants, the government announced an annual maintenance grant of between £5,000 and £8,000 per student from this September.
While this year has seen a small uplift in applications, they are still down by 17% from 2016/17 – the final year in which student nurses did not have to pay their own fees.
Chair of the RCN UK Students Committee Jessica Sainsbury said: "Everyone who wants to become a nurse should be encouraged and supported to do so, and all financial barriers must be removed. I and my fellow nursing students urge the government to fund our future nurses to build a nursing workforce that meets patient needs for the long term."
The fall in nursing student numbers comes amid wider concerns about nursing numbers. Going into the COVID-19 pandemic, there were almost 40,000 unfilled nursing vacancies in the NHS in England alone. Furthermore, a recent RCN survey of approximately 42,000 members in England showed that 36% were thinking of leaving the profession – up from 27% at the end of 2019.