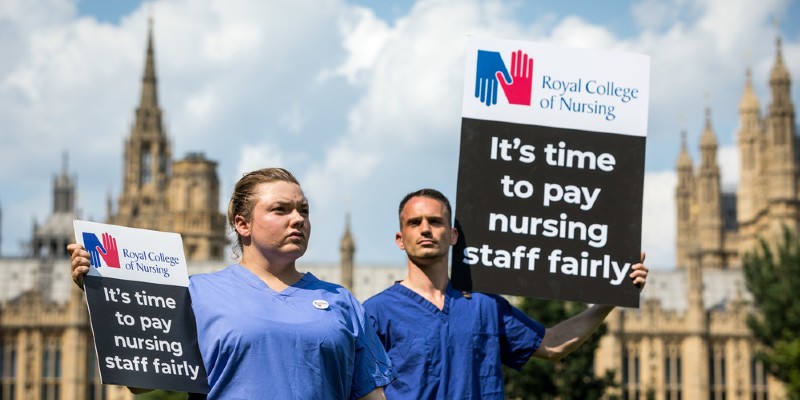 Today, the Department of Health and Social Care in England has submitted written evidence to the NHS Pay Review Body (PRB) signalling a pay award for Agenda for Change staff between 2 and 3% for 2022-23.
In the document, the government claims lower pay awards would allow the health service to recruit more staff.
The RCN, however, says nursing pay is a political choice and the government's approach of pitching nursing staff against patients will not be received well.
RCN General Secretary & Chief Executive Pat Cullen said: "This document shows the UK government is not serious about tackling the nursing workforce crisis, retaining expert and experienced nursing staff or making patient care safer.
"Our members will see this as a deliberate attempt to pitch nurses against patients. Politicians need to move beyond this false choice between paying staff fairly and safer staffing levels – one is key to the other.
"Failing to pay a fair wage is a false economy: we know that many are thinking of quitting the profession and anything less than what they deserve will not prevent an exodus from a safety critical profession.
"The elephant in the room seems to be the spiralling cost of living. By not acknowledging it, they are signalling to staff that their pay will just fall even further behind inflation.
"The government must show staff they are valued and send a message to the public that patient safety is a top priority. This deeply unambitious starting point for the next pay round will not help the much-needed recovery of services."
The PRB is responsible for advising the government on pay for NHS staff and takes evidence from trade unions, employers and governments to inform its recommendations.
The governments covering the health service in England, Northern Ireland and Wales have asked the PRB to recommend what pay increase NHS staff in those countries should receive for 2022-23.
The RCN has submitted its evidence and will be making this publicly available shortly.
In Scotland, the RCN will be working alongside other unions to negotiate an NHS pay offer directly with the Scottish government and NHS employers.